Evil Eye Necklace: Ward off Negativity with Stylish Protection
$27.00 & Free Shipping
Quantity
Discount
Discounted price
2
5%

$

25.65
3
10%

$

24.30
5
15%

$

22.95
10
20%

$

21.60
Satisfaction Guaranteed
No Hassle Refunds
Secure Payments
Frequently Bought Together
Description
Evil Eye Necklace: Ward off Negativity with Stylish Protection
Have you ever wondered how a simple piece of jewelry like the evil eye necklace can ward off negative vibes and bring good fortune? Evil eye necklaces are ancient talismans that have been passed down through generations.
Design: These captivating charms hold great significance and are deeply rooted in tradition. These mystical adornments, also known as evil eye jewelry, have traversed cultures worldwide, each with its unique interpretation and symbolism. If you're looking for a unique and meaningful piece, check out our beautiful rose gold titanium steel evil eye necklace, featuring intricate designs with small blue stones and mesmerizing blue eyes pendant necklace adorn with white zircon.
Symbolic Fashion: Believed to possess the power to protect against malevolent energy, evil eye necklaces have become cherished protection jewelry gifts. The iconic evil eye symbol adorning our necklaces is said to watch over its wearer's blue eyes, deflecting ill intentions and inviting positive energies into their life's tapestry.
Protection in Style: Our beautiful necklace with evil eye pendants is designed to protect you. The pendants come in different styles and have intricate patterns that represent the various cultures that believe in this ancient symbol. From delicate pendants to bold statement pieces, blue-eyed evil necklace captivate with its beauty while offering a shield against harm.
So why not indulge in the allure of our titanium evil eye necklace with blue eyes? Wear our necklace to add style and protection to your life. It's a perfect accessory with a rich history and meaningful symbolism.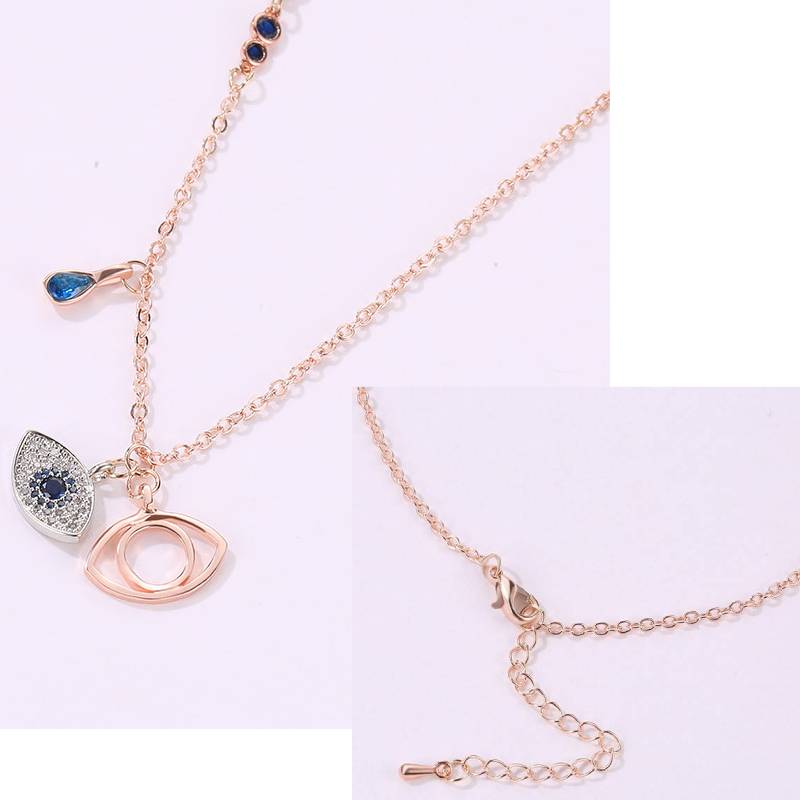 Additional information
| | |
| --- | --- |
| Weight | 0.01 kg |
| Dimensions | 100 × 100 × 30 cm |
| Color | Rose Gold |
| Gender | Female |
| Age group | Adult |
| Color | Rose gold |
Styling Tips
Styling Tips: How to Wear an Evil Eye Necklace
Pair your evil eye necklace, a popular protection jewelry gift, with a simple outfit for a pop of color and symbolism. The silver evil eye pendant is not only a stylish accessory but also carries deep cultural significance. By wearing it with a basic ensemble, such as a white t-shirt and jeans, you allow the necklace to become the focal point of your look. Let the vibrant hues of the blue eyes evil eye pendant stand out against neutral tones for an eye-catching effect. Find unique evil eye necklaces on Etsy.
Layer multiple evil eye necklaces of different lengths for a trendy, bohemian look. Embrace the current fashion trend by creating a layered necklace stack using various evil eye designs. Experiment with different chain lengths, mixing delicate and chunky pieces to achieve an effortlessly boho-chic style. Layering these protective amulets adds dimension and visual interest to your overall outfit. Find the perfect protection jewelry gift on Etsy, where you can discover a wide selection of handmade silver pieces.
Mix metals or materials to create a unique and personalized style statement. Don't be afraid to combine different metals or materials when styling your evil eye necklace. This allows you to express your individuality and create a truly one-of-a-kind look. Consider pairing a gold evil eye pendant with silver chains or combining leather cords with metal charms for an edgy twist. With Etsy's wide range of handmade items, you can find a variety of colors and styles to suit your taste.
Incorporating these tips into your accessory choices will elevate your style while showcasing the allure of the handmade evil eye necklace. Whether you opt for simplicity, layering, or mixing materials, make sure to wear this captivating piece from Etsy with confidence and embrace its rich symbolism as a unique gift.
Remember, fashion is about self-expression, so don't be afraid to experiment and have fun with your evil eye necklace. You can choose from a variety of colors and styles to find the perfect gift for yourself or someone special. Whether you prefer a gold chain or something more unique, let your personal style shine through.
Protective power
Embrace the Protective Power of an Evil Eye Necklace
Incorporating an evil eye necklace into your jewelry collection not only adds a touch of style, but also offers you a powerful symbol of protection. This ancient talisman has been revered across cultures for its ability to ward off negative energy and bring good fortune. Whether you're a believer in its mystical qualities or simply appreciate its aesthetic appeal, embracing the protective power of an evil eye necklace can be a meaningful addition to your everyday look. It also makes for a great gift, with its gold chain and timeless design. Make sure to check out our selection of evil eye necklaces and other gift items.
With its versatile design, a gold chain evil eye necklace can effortlessly elevate any outfit. Pair it with casual attire for a trendy and relaxed vibe, or use it as a statement piece to complement your evening wear. The options are endless when it comes to this gift-worthy item.
By wearing a gold evil eye necklace, you carry with you the belief that it will shield you from harm and repel negativity. It serves as a constant reminder that you have the strength to overcome challenges and embrace positivity in your life. The evil eye necklace can also be a meaningful gift to pass on the chain of protection and bring a touch of blue to someone's life.
To enhance your experience with an evil eye necklace, consider layering it with other delicate gold chain necklaces for a fashionable stacked look. Experiment with different lengths and textures to create a unique combination of gift items that speaks to your personal style.
So why wait? Embrace the protective power of a gold evil eye necklace today and let its enchanting presence guide you towards good fortune and positive energy. It's the perfect gift for anyone who loves the color blue, and the delicate chain adds a touch of elegance to any outfit.
FAQs
Can I wear an evil eye necklace every day?
Absolutely! Evil eye necklaces with gold chain are designed for everyday wear, making them perfect for adding a touch of protection to your daily routine. These necklaces come in a variety of styles and colors, including blue, and can be paired with other gold items to create a stylish and meaningful look.
How do I know if my evil eye necklace is authentic?
When purchasing an evil eye necklace, look for reputable sellers who provide certificates of authenticity or guarantee the quality of their gold items. Genuine evil eye necklaces often feature intricate designs and high-quality materials, such as blue stars.
Can men wear evil eye necklaces too?
Definitely! Evil eye necklaces can be worn by women, men, girls, or anyone who wishes to embrace their protective qualities and incorporate them into their style. These necklaces are not limited to any particular gender and can be enjoyed by individuals of all genders.
Are evil eye necklaces suitable for gifting?
Yes, gold evil eye necklaces make excellent gifts! These fashionable items not only carry a symbolic meaning of protection but also have the added value of being made of gold. This makes them thoughtful presents for loved ones, especially on special occasions like birthdays or anniversaries. Whether it's a delicate pendant or a statement piece, the sun will shine brightly on the lucky recipient when they wear this stunning jewelry. So, why not surprise someone with a beautiful gold evil eye necklace this Sun, Aug?
How do I care for my evil eye necklace?
To keep your gold evil eye necklace with blue stones looking its best, avoid exposing it to harsh chemicals or excessive moisture. Clean the gold and blue necklace gently with a soft cloth and store it in a jewelry box or pouch when not in use. This will help preserve the colors of the blue stones and protect the gold items from damage.