Glamorous Gold Body Chain: Enhance Your Style
$35.00 & Free Shipping
Satisfaction Guaranteed
No Hassle Refunds
Secure Payments
Frequently Bought Together
Description
Glamorous Gold Body Chain: Enhance Your Style
Shimmering Elegance to Enhance Your Style
Enhance your fashion game with our exquisite gold body chain. Crafted with precision and attention to detail, this stunning accessory is designed to add a touch of shimmering elegance to your outfits. Made from electroplated alloy chain, this body chain exudes a luxurious charm that effortlessly elevates your entire look.
Whether you're attending a glamorous event, going out for a night on the town, or simply want to stand out from the crowd, our Gold Body Chain is the perfect choice. Its captivating design features a sleek and delicate chain that beautifully drapes across your body, creating a mesmerizing visual effect that catches the light with every move you make.
Versatile and Adjustable for Your Perfect Fit
We understand that every individual is unique, and that's why our Gold Body Chain is adjustable to ensure a perfect fit. With a length of 65 cm x 40 cm and a 5 cm extension, you can customize the size according to your preference, allowing you to wear it comfortably and confidently.
The versatility of this body chain knows no bounds. It effortlessly complements a variety of outfits, from casual attire to formal ensembles. Wear it over a swimsuit to transform your beach look into a glamorous statement, pair it with a little black dress for a night out, or layer it over a flowing bohemian dress to create a captivating boho-chic style. The possibilities are endless.
Unleash Your Inner Goddess with Timeless Beauty
Indulge in the allure of timeless beauty as you adorn yourself with our Gold Body Chain. This elegant accessory exudes a sense of power, grace, and confidence, allowing you to unleash your inner goddess. The rich gold color adds a touch of opulence, while the intricate design showcases a level of craftsmanship that is truly exceptional.
Make a bold fashion statement and let your personality shine through with this stunning body chain. Whether you're attending a wedding, a music festival, or a romantic dinner, this piece will undoubtedly turn heads and leave a lasting impression. Feel the weight of the world lift off your shoulders as you embrace the empowering essence of our Gold Body Chain.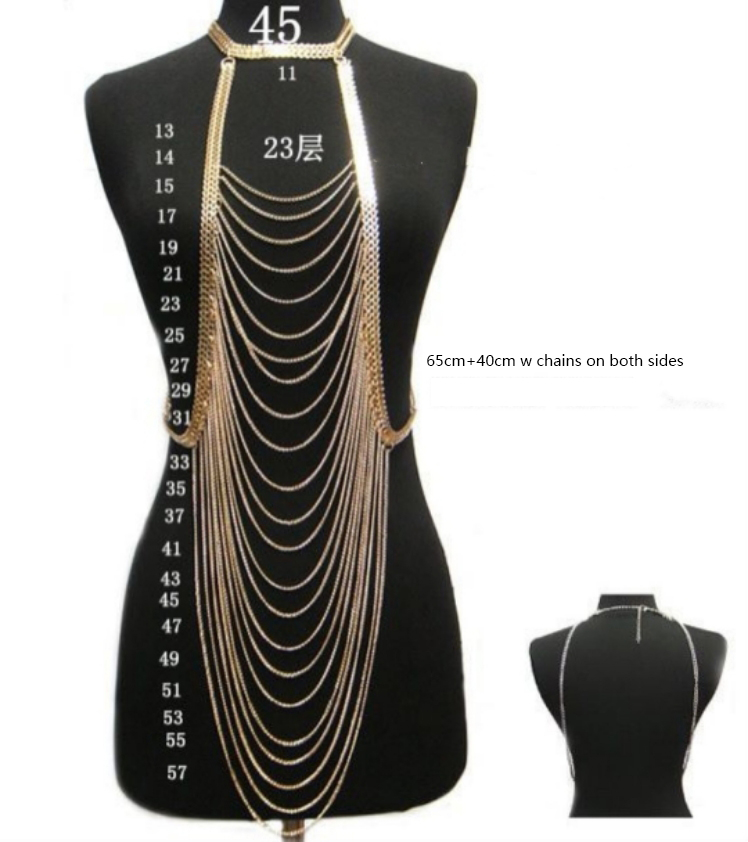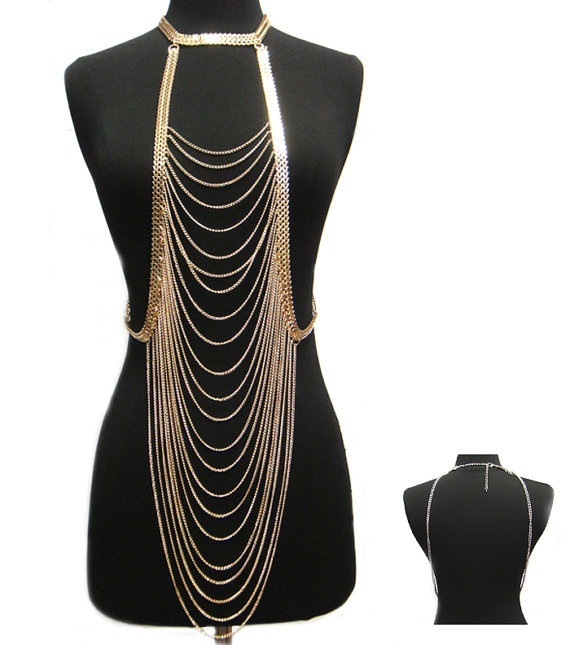 Additional information
| | |
| --- | --- |
| Weight | 0.13 kg |
| Dimensions | 200 × 200 × 100 cm |
| Color | Gold, Silver |
| Color | Gold, Silver |
| Gender | Female |
| Age group | Adult |