Grunge Backpack: Edgy Fashion for the Contemporary Rebel
$88.00 & Free Shipping
Satisfaction Guaranteed
No Hassle Refunds
Secure Payments
Frequently Bought Together
Description
Grunge Backpack: Carry the Attitude of the 90s
Imagine stepping back in time to the vibrant and rebellious era of the 90s, where fashion was all about quality products and innovative designs. As you stroll down memory lane, one fashion accessory that stands out among the rest is the grunge backpack. Our awesome grunge backpack features a super cool skull design and is made from really high-quality materials. It can be used by both boys and girls and is great for people who like to go against the norm.
Design:The grunge backpack is really cool because it has a big skull on it. It's a bag that people like because it let them show who they are and do things differently. The bag's quality and innovative products made it a popular choice among individuals seeking unique and high-quality designs.
Material & Colors: Made from tough materials like PU leather, the grunge backpack comes in three different colors: black, gold, and silver. Its polyester lining adds to its durability and style.
Features: The grunge backpack has many great features. It is waterproof, so you don't have to worry about your belongings getting wet. It is also wear-resistant, so it will last a long time. The backpack is anti-theft, which means it will keep your things safe. It is also anti-vibration, so your belongings won't get damaged. Lastly, the backpack is lightening, making it easy to carry around. With all these features, your belongings will be well-protected in the grunge backpack.
Style & Functionality: It's not just a trendy fashion statement but designed to withstand the test of time and provide high-quality functionality. This grunge backpack is really awesome! It can hold up to 20 liters of stuff, and inside, there are different compartments for things like zippers, mobile phones, and IDs. People love this backpack because it looks cool and it's really useful too.
Gift & Free delivery: When you buy our cool backpack, you'll receive an awesome gift and free delivery.
Whether you were heading home from school, exploring the great outdoors, or simply running errands around your home town, the grunge backpack is your trusted companion. Its rebellious charm effortlessly blended with any outfit, making it a staple in every fashion-forward individual's wardrobe. If you want a cool accessory that is both stylish and useful, then the grunge backpack is the perfect choice. It's a great way to show off your rebellious side and add a classic fashion item to your collection.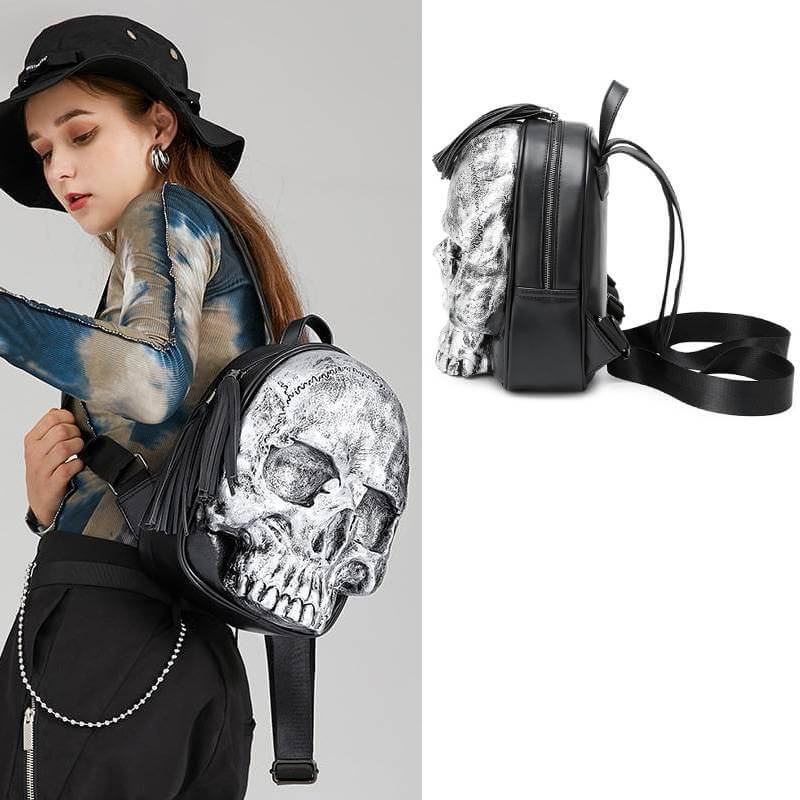 Additional information
| | |
| --- | --- |
| Weight | 0.50 kg |
| Dimensions | 320 × 220 × 100 cm |
| Color | Black, Gold, Silver |
| Gender | Unisex |
| Age group | Adult |
| Color | Black, Gold, Silver |
Trend
Embrace the Grunge Backpack Trend
Perfect for adding a touch of grunge to any outfit
Grunge backpacks are the perfect accessory to add some edgy style to your everyday outfits. Whether you're heading home from school or hanging out with friends, these backpacks will instantly give your look a cool and rebellious vibe.
Pair with ripped jeans and band t-shirts for an authentic look
To create an authentic grunge-inspired outfit, pair your grunge backpack with some ripped jeans and a band t-shirt. This combination will exude a laid-back and effortlessly cool aesthetic that is synonymous with the grunge fashion trend.
Choose from various designs, including plaid patterns or distressed finishes
Grunge backpacks come in a variety of designs to suit your personal style. Opt for one with a plaid pattern for a classic grunge look, or choose a backpack with distressed finishes for an added touch of ruggedness. The options are endless!
Ideal for music festivals or casual outings
Whether you're attending a music festival or simply going about your daily activities, a grunge backpack is the perfect companion. These backpacks are not only stylish but also practical, allowing you to carry all your essentials while looking effortlessly cool.
So why wait? Embrace the grunge backpack trend and elevate your style game today! With their versatility and ability to add that extra edge to any outfit, these backpacks are must-haves for anyone looking to embrace their inner rebel.
Remember:It's all about expressing yourself and having fun with what you wear. So go ahead and rock that grunge backpack like the fashion icon you are!
90s Influence
The Influence of Grunge Backpacks in the 90s
Grunge backpacks were more than just a fashion statement in the 90s. They represented a rebellious spirit, a desire to break free from traditional norms and embrace individuality. These backpacks became an iconic symbol of the grunge movement, with their rugged aesthetic and laid-back vibe.
But their influence extended beyond mere fashion trends. Grunge backpacks were a reflection of an entire generation's mindset—a generation that was tired of conformity and yearned for authenticity. They embodied the raw energy and nonchalant attitude that defined the 90s youth culture.
Today, you can still tap into that same spirit by embracing the grunge backpack trend. It's not just about wearing a cool accessory; it's about expressing yourself and standing out from the crowd. So why not add a touch of nostalgia to your wardrobe? Find that perfect grunge backpack that resonates with your personality and wear it proudly as a symbol of your individuality.
FAQs
Can I find authentic vintage grunge backpacks?
Yes, there are various online marketplaces where you can find authentic vintage grunge backpacks. Look for sellers who specialize in vintage clothing or accessories, as they often have a curated selection of unique items from the 90s era.
Are grunge backpacks suitable for everyday use?
Absolutely! Grunge backpacks are not only stylish but also highly functional. They typically offer ample storage space and durability, making them perfect for everyday use whether you're going to school, work, or exploring the city.
How can I style my grunge backpack?
There are countless ways to style your grunge backpack depending on your personal taste and outfit choices. You can pair it with ripped jeans, band t-shirts, flannel shirts, or even floral dresses to create an edgy yet effortlessly cool look.
Are grunge backpacks unisex?
Yes, grunge backpacks are inherently gender-neutral. They were popular among both men and women during the 90s, and their timeless appeal continues to attract individuals of all genders today.
Can I find affordable grunge backpack options?
Yes, there are plenty of affordable grunge backpack options available. You can explore thrift stores, online marketplaces, or even check out smaller independent brands that offer budget-friendly alternatives without compromising on style or quality.