Leopard Ring: Elegance Meets the Wild Side in Your Jewelry
$36.00 & Free Shipping
Satisfaction Guaranteed
No Hassle Refunds
Secure Payments
Frequently Bought Together
Description
Leopard Ring: The Ultimate Fashion Roar in Your Wardrobe
Leopard ring, oh how it catch your eye! This trendy jewelry fashion accessory, such as engagement ring, have become a favorite among many fashion enthusiasts like yourself who love to wear it. This leopard ring is special because it has a beautiful design with a green zircon. It stands out from other rings and is perfect for people who want to wear bold and stylish accessories made with zircon and gold.
Material: There's something about leopard rings and jewelry that exudes confidence and individuality. Our ring is the perfect addition to any collection. It is made of gold-plated material and has black accents. The ring also features white zircon inlays. When you put our leopard ring on your finger, you feel strong and confident, ready to conquer the world of jewelry.
Color & Size: Our cocktail ring is available in different colors like silver, rose gold, and gold. You can easily show your personal style with these rings, whether you like a bold and eye-catching look or a simple and fashionable one. This leopard ring is great because it can fit any finger size and make a bold statement as an engagement ring. It is adjustable and perfect for making a statement. Inner ring circumference 49-57mm, diameter 15.7-18.1 mm.
Gift & Free Shipping: When you purchase our leopard engagement ring you'll receive a stunning gift and also free delivery. You definitely need to get this ring to enhance your collection of jewelry.
Leopard ring is more than just accessory; it's conversation starters, icebreakers that instantly draw attention and admiration. So why not add a touch of fierce elegance to your ensemble with a stunning leopard engagement ring? Let your fingers do the talking as you make a bold fashion statement with this must-have accessory. Order yours now!
Feel free to reach out to us if you require any further details or assistance regarding the leopard ring. We are more than happy to help you out.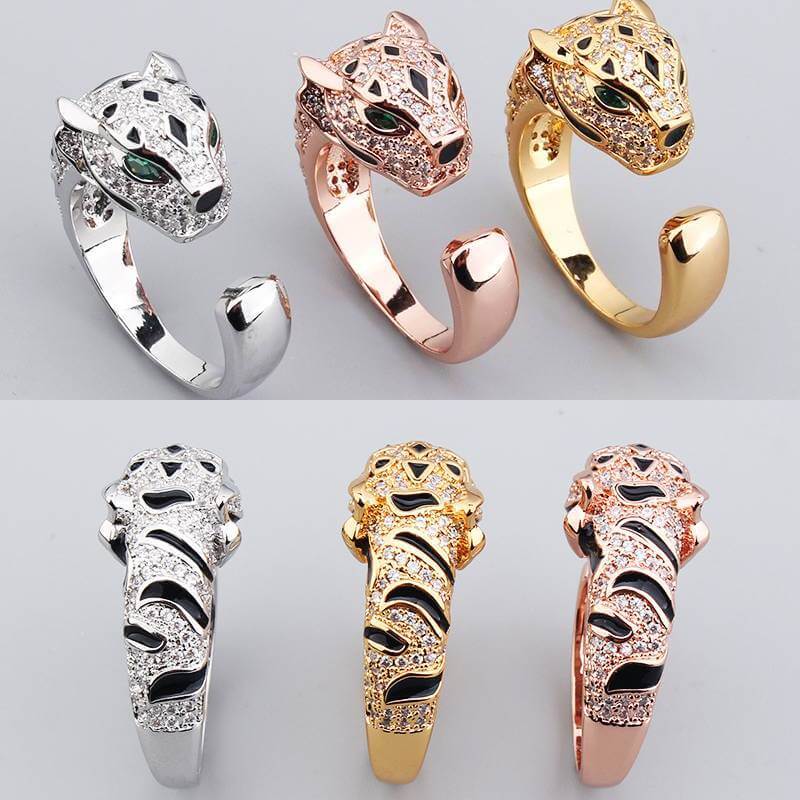 Additional information
| | |
| --- | --- |
| Weight | 0.01 kg |
| Dimensions | 100 × 100 × 20 cm |
| Color | Gold, Rose Gold, Silver |
| Gender | Unisex |
| Age group | Adult |
| Color | Rose gold, Gold, Silver |
Trend On-Demand
Exploring the Demand for Leopard Ring
The demand for leopard rings has seen a steady increase in recent years. This surge in popularity can be attributed to several factors. Firstly, many celebrities and influencers have been spotted flaunting their 18k gold leopard rings, making them highly sought after among fashion enthusiasts. The allure of these exquisite accessories lies in their ability to add a touch of glamour to any outfit.
Leopard rings are not only stylish but also offer a sense of exclusivity. They are often limited edition pieces that are available for a limited time or in limited quantities. This scarcity factor further fuels the demand for these coveted rings.
To cater to the growing interest, retailers have started offering leopard rings both online and offline. Customers can find them on sale through various platforms, making it easier than ever to get their hands on these fashionable accessories.
Moreover, some retailers even provide options for exchanging or returning leopard rings if they don't meet customers' expectations. This flexible exchange policy adds an extra layer of convenience and reassurance when making a purchase.
In response to the high demand, retailers have streamlined their processes to handle orders efficiently. With improved logistics and fulfillment systems, customers can expect faster delivery times and smoother transactions when purchasing leopard rings.
Animal Jewelry
Art Nouveau Influence: Nature-Inspired Rings
Leopard rings are a stunning representation of the Art Nouveau movement, which finds inspiration in the beauty of nature. These exquisite pieces of jewelry capture the elegance and grace of leopards in their intricate design. With their unique blend of antique charm and contemporary style, leopard rings have become highly sought-after items among collectors and fashion enthusiasts alike.
The allure of these nature-inspired rings lies in their ability to encapsulate the essence of wildlife within a wearable gem. The meticulous craftsmanship showcases the lifelike details that mirror the mesmerizing patterns found on a leopard's coat. Each ring is a testament to the artist's skill, transforming precious metals and gems into miniature works of art.
Leopard rings offer a diverse range of styles to suit different tastes and preferences. Whether adorned with sparkling diamonds or vibrant colored gemstones, these rings allow individuals to express their love for nature through an elegant accessory. From delicate stethoscope charms to bold statement pieces, there is a leopard ring for every occasion.
Nature enthusiasts are drawn to leopard rings because they symbolize a deep appreciation for the natural world. By wearing such a piece, one can carry a reminder of wildlife's beauty wherever they go. It serves as a conversation starter, allowing wearers to share their passion for conservation and environmental awareness.
Fashion Statement
Embracing the Elegance of Leopard Ring
Leopard rings are not just a fashion statement; they are a symbol of boldness, confidence, and untamed elegance. These exquisite pieces of jewelry have captivated the hearts of many fashion enthusiasts, making them a must-have accessory. The allure lies in their intricate design, which beautifully captures the essence of nature's most majestic creature – the leopard.
Wearing a leopard ring is more than just adorning your finger with a piece of jewelry; it's about embracing your inner strength and embracing your unique style. When you slip on a leopard ring, you instantly exude an air of sophistication and power. It becomes a conversation starter, drawing attention to your impeccable taste and fearless personality.
So why wait? Step into the world of timeless elegance with a leopard ring that speaks volumes about who you are. Whether you're attending a glamorous event or simply want to elevate your everyday look, this iconic accessory will never fail to make a statement.
FAQs
Can I wear a leopard ring every day?
Absolutely! Leopard rings are versatile enough to be worn every day. They add an element of allure and sophistication to any outfit, whether you're dressed up for an occasion or going for a casual look. Just remember to choose high-quality materials that can withstand daily wear and tear.
Are leopard rings only for women?
No! Leopard rings are not limited to any gender. They can be enjoyed by anyone who appreciates their beauty and symbolism. Fashion has no boundaries, so feel free to rock a leopard ring regardless of your gender identity.
How do I choose the right size for my leopard ring?
To ensure the perfect fit, it's essential to know your ring size before making a purchase. You can easily measure your finger using an online guide or visit a local jeweler for assistance. Remember that comfort is key when selecting the right size for your leopard ring.
Can I find affordable leopard rings?
Yes, there are plenty of affordable options available for leopard rings. From costume jewelry to sterling silver or gold-plated pieces, you can find a range of prices to suit your budget. Just make sure to research the materials and craftsmanship to ensure you're getting a quality piece that will last.
How do I care for my leopard ring?
To keep your leopard ring looking its best, it's important to care for it properly. Avoid exposing it to harsh chemicals or abrasive surfaces, as these can damage the finish. Clean your ring regularly using a soft cloth or mild soap and water, and store it in a safe place when not in use.
Can I wear other animal-inspired jewelry with my leopard ring?
Absolutely! Mixing and matching different animal-inspired jewelry can create a unique and eclectic look. Pairing your leopard ring with other pieces like snake bracelets or tiger earrings adds an extra touch of fierceness to your ensemble. Have fun experimenting with different combinations and let your personal style shine through.
Where can I buy an authentic leopard ring?
Authentic leopard rings can be found at reputable jewelers, both online and offline. Look for stores that prioritize quality craftsmanship and offer genuine materials. Reading customer reviews and checking the store's return policy can also help ensure a positive buying experience.