Skull Charm for Pandora Bracelet: Rebel Chic with Elegance
$33.00 & Free Shipping
Satisfaction Guaranteed
No Hassle Refunds
Secure Payments
Description
Skull Charm For Pandora : Edgy Addition to Your Jewelry Collection
Looking to add some Halloween spirit to your Pandora bracelet? Introducing our sterling silver skull charm for Pandora bracelet.
Materials: Made with really good materials, like sterling silver that's been treated with a special process to make it strong and shiny on your wrist. The charm is designed with lots of fancy details and shiny red heart and yellow stars crystals. It's so glamorous that it will definitely catch people's attention.
Size & Gift: Our skull charm is a perfect size at 17.1 mm x 17.1 mm. And guess what? When you purchase it, we'll even throw in a lovely gift and ship it to you for free!
Don't miss out on this must-have accessory for all Halloween enthusiasts. Get ready to embrace the spooky season in style with an amazing piece of pandora jewelry accessory!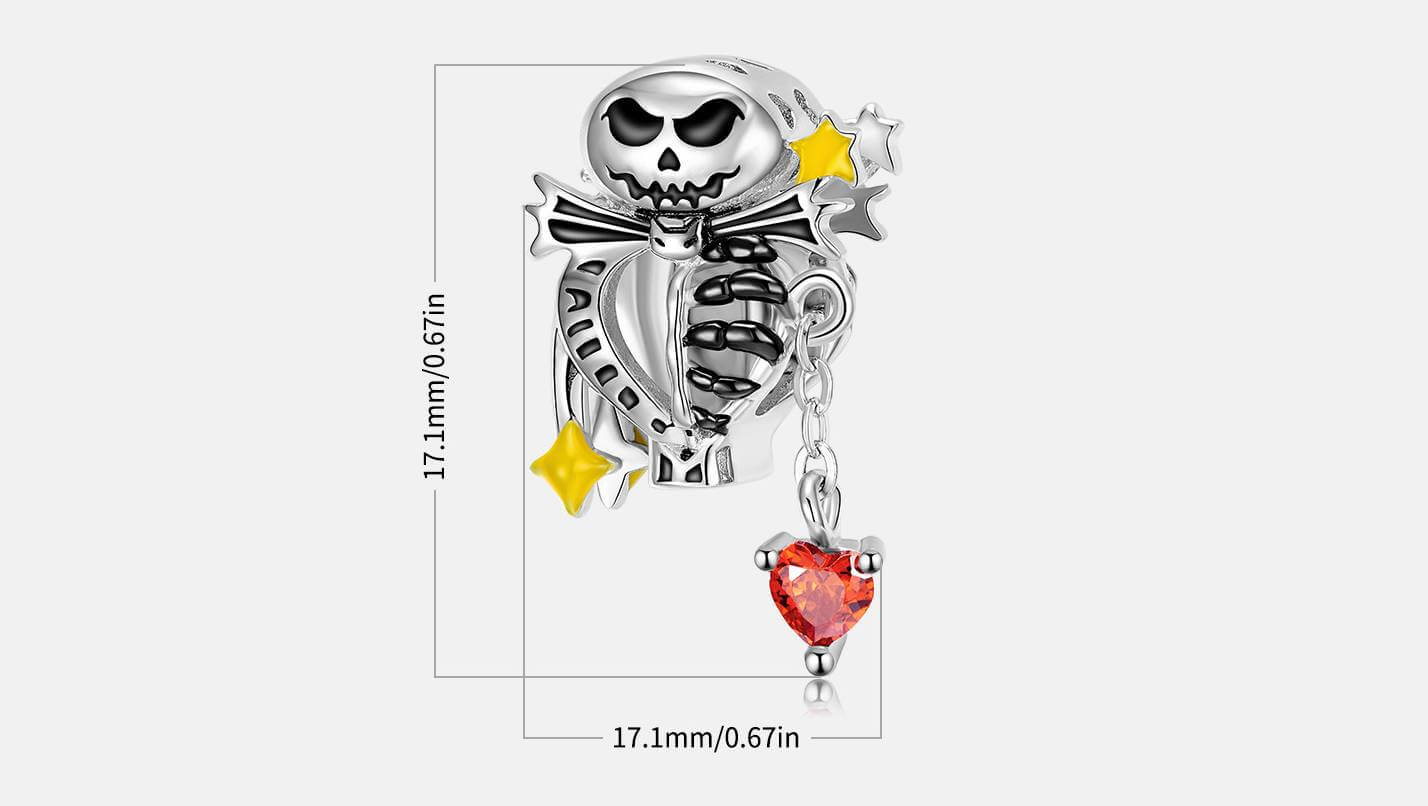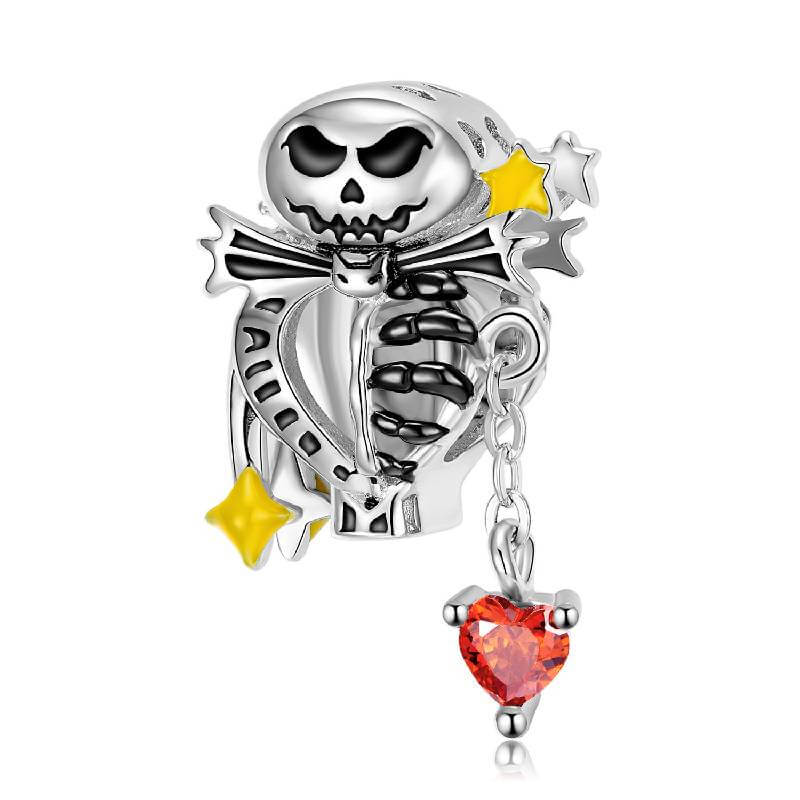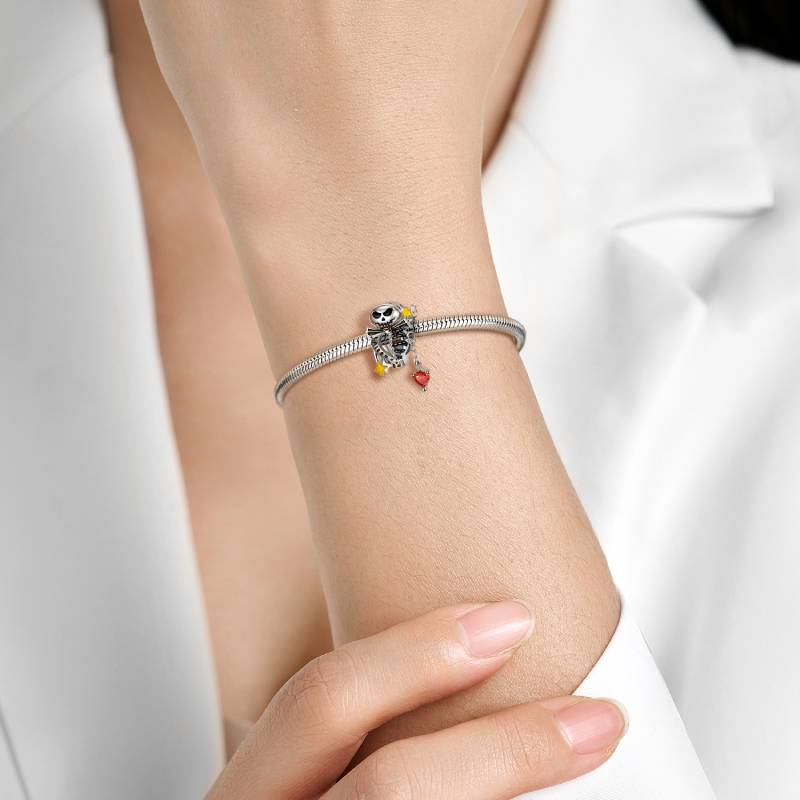 Additional information
| | |
| --- | --- |
| Weight | 0.01 kg |
| Dimensions | 100 × 100 × 20 cm |
| Color | PC1377 |
| Color | Silver |
| Gender | Female |
| Age group | Adult |
Unique Style
Embrace Your Unique Style with Pandora Skull Charms
Express your individuality and add a touch of edginess to your Pandora jewelry collection with stylish skull charms. These eye-catching pieces allow you to create a personalized look that reflects your unique style and personality.
Various Designs to Choose From
Pandora offers a diverse range of skull charm designs, catering to different tastes and preferences. Whether you prefer traditional skulls or more intricate sugar skulls, there is a charm that will suit your style. Each charm is intricately crafted with attention to detail, ensuring high-quality craftsmanship.
Mix and Match for Personalized Looks
One of the great things about Pandora skull charms is the ability to mix and match them with other charms in your collection. This allows you to create endless combinations and truly make your jewelry one-of-a-kind. Whether you want to go for an all-out skull-themed bracelet or add a subtle touch of edge by pairing a skull charm with other symbols, the possibilities are endless.
Express Yourself Through Jewelry
Pandora understands the importance of self-expression through jewelry. Their skull charms provide an opportunity for you to showcase your personality and unique style. By adding these charming pieces to your collection, you can make a bold statement or simply incorporate them as subtle accents in your everyday look.
So why wait? Explore the world of Pandora skull charms today and embrace your individuality through stunning jewelry pieces that speak volumes about who you are.
Versatility
Versatility of the Skull Charm with Pandora Bracelets
Compatible with all Pandora bracelets
The skull charm for Pandora bracelets is designed to be compatible with all types of Pandora bracelets. Whether you have a silver, gold, or leather bracelet, this charm can easily be added to create a personalized and unique look. You don't have to worry about compatibility issues because it seamlessly fits onto any Pandora bracelet.
Standalone or combined with other charms
You have the freedom to wear the skull charm as a standalone piece on your bracelet. It makes a bold statement and adds an edgy vibe to your overall style. However, if you want to get creative and switch up your look, you can also combine the skull charm with other charms from the Pandora collection. This allows you to create a customized design that reflects your personality and preferences.
Adds an edgy and trendy vibe
The skull charm is perfect for those who want to add a touch of edge and trendiness to their Pandora bracelet. With its intricate details and unique design, it stands out among other charms in the collection. Whether you're into rock-inspired fashion or simply love the symbolism behind skulls, this charm will definitely make a statement on your wrist.
DIY Ideas
DIY Options for Creating Skull-Themed Pandora Style Bracelets
In conclusion, creating your own skull-themed Pandora style bracelet allows you to embrace your unique style and express your individuality. With the versatility of the skull charm, you can easily mix and match it with other Pandora charms to create a truly personalized piece of jewelry. Whether you prefer a subtle hint of edginess or want to make a bold statement, the skull charm adds an element of intrigue and personality to your bracelet.
Now that you have discovered the endless possibilities of designing your own skull-themed Pandora style bracelet, why wait? Start exploring different combinations and unleash your creativity today! Express yourself through this captivating accessory that reflects who you are. Don't be afraid to experiment with different colors, materials, and styles – let your imagination run wild and create a one-of-a-kind piece that will turn heads wherever you go.
FAQs
Frequently Asked Questions about Skull Charms for Pandora
Can I mix the skull charm with other charms on my Pandora bracelet?
Absolutely! One of the best things about Pandora bracelets is their versatility. You can mix and match different charms to create a unique combination that suits your personal style. The skull charm pairs well with various themes such as flowers, animals, or even abstract designs. Feel free to experiment and create a bracelet that tells your story.
Are there different types of skull charms available for Pandora bracelets?
Yes, there is a wide range of skull charms available for Pandora bracelets. From intricately designed silver skulls to colorful enamel options, you can find something that matches your taste perfectly. Some charms feature additional embellishments like crystals or gemstones, adding an extra touch of glamour.
Can I purchase pre-made skull-themed Pandora bracelets?
Yes, many jewelry retailers offer pre-made skull-themed Pandora bracelets if you prefer not to design one yourself. These ready-to-wear options often come in various styles and combinations, allowing you to find a bracelet that matches your preferences effortlessly.
How do I take care of my skull charm and Pandora bracelet?
To keep your skull charm and Pandora bracelet looking their best, it's important to clean them regularly. You can use a soft cloth or a jewelry cleaning solution specifically designed for silver or gold-plated jewelry. Avoid exposing your bracelet to harsh chemicals, perfumes, or excessive moisture. Store your Pandora bracelet in a separate compartment or pouch to prevent scratches and tangling with other jewelry.
Can I add more charms to my Pandora bracelet over time?
Absolutely! One of the joys of owning a Pandora bracelet is the ability to continuously add charms as you go along. Whether it's for special occasions, milestones, or simply because you found another charm that speaks to you, feel free to expand your collection and make your bracelet even more meaningful over time.