Skull Earrings: Rebel-Chic Fashion with a Glamorous Twist
$21.00 & Free Shipping
Satisfaction Guaranteed
No Hassle Refunds
Secure Payments
Frequently Bought Together
Description
Skull Earrings: Edgy Chic for the Fearless Fashionista
Picture this: you're strolling through a bustling marketplace, surrounded by vendors showcasing their unique creations. As you shop, you come across a variety of talented sellers and local businesses. As you browse through the stalls on our shop, your eyes lock onto a pair of skull earrings, exuding an aura of rebellion and individuality. These unique items are just a glimpse into the diverse offerings from sellers on this global marketplace.
Materials: These accessories available on Beauty Deals shop have become more than just jewelry; they are symbolic representations in the global marketplace of breaking free from societal norms and embracing your true self. These unisex earrings are made of alloy and have beautiful white zircon on them. When you wear these earrings, you will look cool and rebellious.
Colors: You can find our unisex skull earrings in silver, gold, and rose gold. They are perfect for adding a stylish touch to any outfit. Also Skull earrings on our Etsy shop have captured the hearts of buyers and fashion lovers alike, transcending gender boundaries. No longer limited to gothic subcultures, these versatile pieces have found their place in mainstream fashion trends, including on Etsy. Whether you're rocking a casual ensemble or adding an edgy touch to a formal outfit, our skull earrings effortlessly elevate any look.
Gift & Free shipping: When you buy these skull earrings, you'll get a lovely present that comes with no cost for shipping.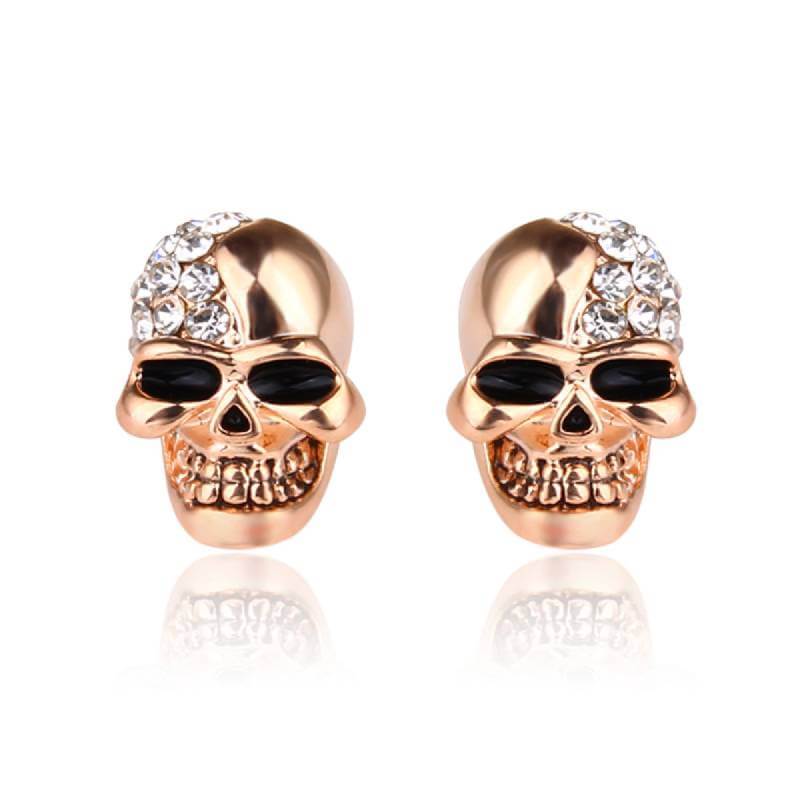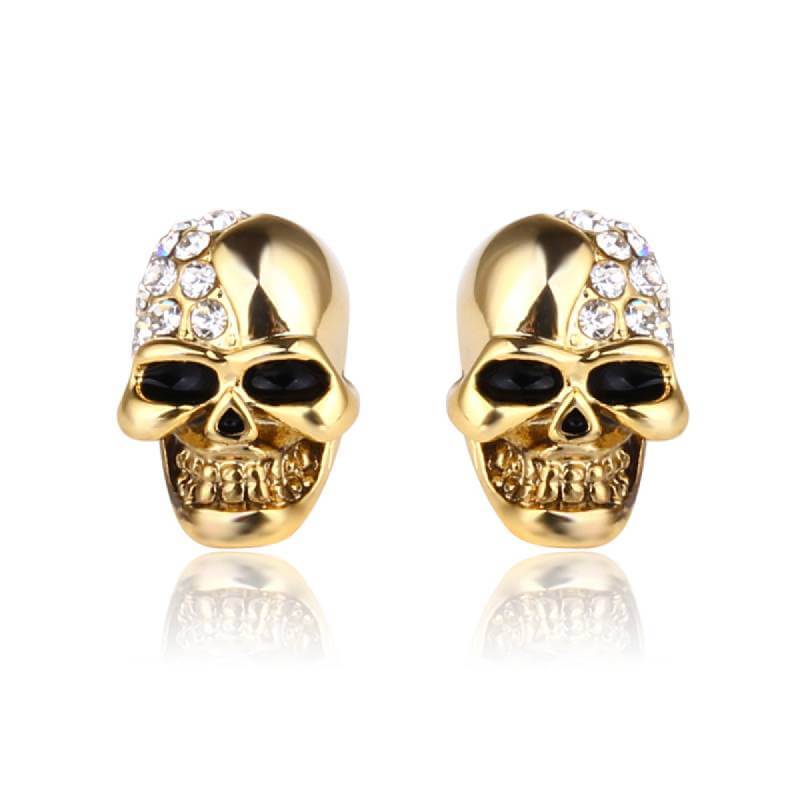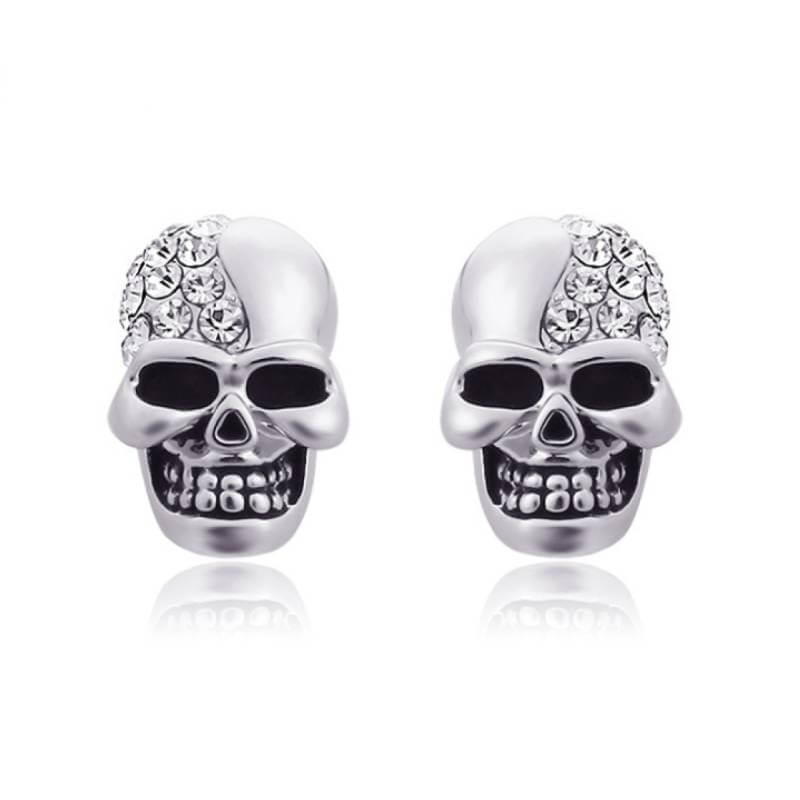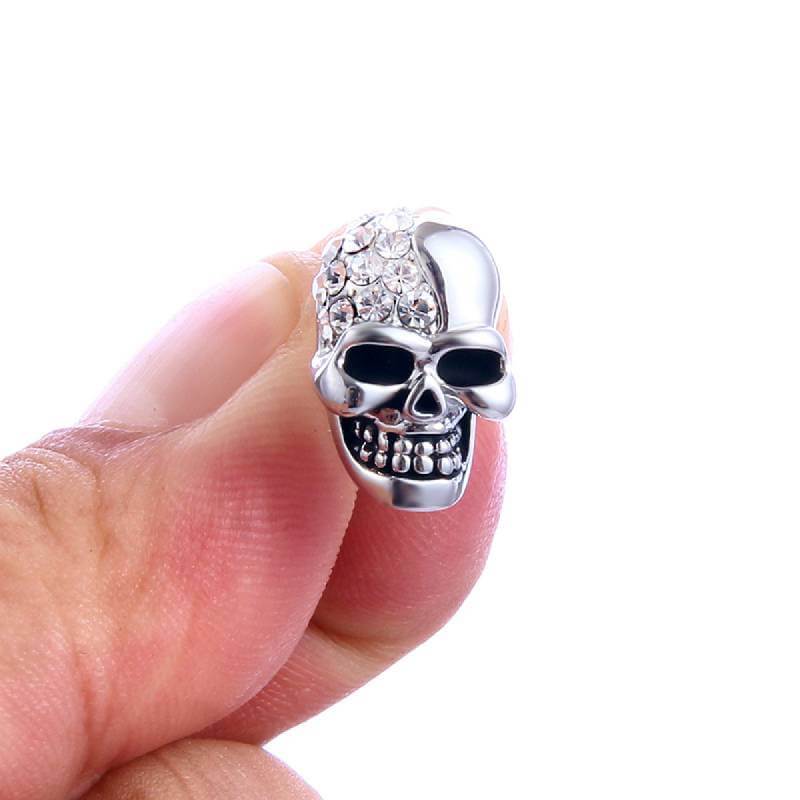 Additional information
| | |
| --- | --- |
| Weight | 0.01 kg |
| Dimensions | 100 × 100 × 20 cm |
| Color | Gold, Rose Gold, Silver |
| Gender | Unisex |
| Age group | Adult |
| Color | Rose gold, Gold, Silver |
The Right Choice
Choosing the Perfect Skull Earrings for Your Style
Consider Different Materials
One of the first things to consider is the material they are made from. You have a variety of options, such as sterling silver or stainless steel. Sterling silver offers a classic and elegant look, while stainless steel provides durability and a modern touch.
Explore Various Skull Designs
Skull earrings come in a range of designs, so it's important to explore different options that suit your style. From minimalist skulls with clean lines to intricate and detailed designs, there's something for everyone. Whether you prefer a subtle and understated look or want to make a bold statement, you can find skull earrings that match your personal taste.
Take into Account Earring Types
Another factor to consider when choosing skull earrings is the type of earring you prefer. There are studs, hoops, and dangles available in various sizes and styles. Studs offer simplicity and versatility, while hoops provide an edgier look. Dangle earrings add movement and flair to your ensemble.
Shop on Etsy for Unique Items
When searching for unique skull earrings that reflect your individuality, Etsy is an excellent platform to explore. Many independent sellers offer handmade or vintage pieces that you won't find anywhere else. You can browse through different shops on Etsy to discover one-of-a-kind skull earrings that align with your style preferences.
Tips
Styling Tips: Wearing and Pairing Skull Earrings with Your Outfits
To rock your skull earrings and create a bold statement, try pairing them with a monochrome outfit. This means wearing clothes that are all one color or shades of the same color. It will make your skull earrings stand out and add an edgy vibe to your look.
Balance the edginess of the skull earrings by combining them with feminine pieces like dresses or skirts. The contrast between the tough skulls and the softness of these garments creates a unique and eye-catching style. Don't be afraid to mix different styles together!
Experiment with layering other accessories along with your skull earrings to enhance your overall style. You can try adding necklaces or bracelets that complement the edgy aesthetic of the skulls. This will give your outfit more depth and visual interest.
Consider pulling your hair back into a sleek ponytail or bun to showcase your skull earrings. This will draw attention to them and allow them to take center stage in your overall look.
Remember, fashion is all about expressing yourself, so don't be afraid to get creative! Have fun trying out different combinations and finding what works best for you.
Maintenance
Caring for Your Skull Earrings: Cleaning and Maintenance
Now that you've chosen the perfect skull earrings to match your style and learned how to rock them with different outfits, it's essential to know how to care for them properly. By following a few simple steps, you can ensure that your skull earrings stay in great condition and continue to make a bold statement.
Firstly,Always remember to handle them with care. Use a soft cloth or jewelry cleaning solution specifically designed for the type of metal or material used in your earrings. Gently wipe away any dirt or residue, taking extra caution not to damage any delicate details on the skulls.
To maintain their shine and prevent tarnishing, store your skull earrings in a cool, dry place away from direct sunlight and moisture. Consider using an airtight container or jewelry box lined with soft fabric to protect them from scratches. Avoid exposing your earrings to harsh chemicals such as perfume or hairspray, as these can cause discoloration over time.
By investing just a little time and effort into caring for your skull earrings properly, you'll be able to enjoy their edgy style for years to come. So go ahead and rock those skulls with confidence!
FAQs
Can I wear skull earrings every day?
Absolutely! Skull earrings can be worn daily if they suit your personal style. Just make sure you choose high-quality materials that won't irritate your ears during prolonged wear.
Are there different sizes of skull earrings available?
Yes! Skull earrings come in various sizes, ranging from small studs to larger dangling designs. Choose the size that best fits your preference and comfort level.
Can men wear skull earrings too?
Definitely! Skull earrings are not limited by gender stereotypes. Men can confidently embrace this bold accessory choice as well.
How do I know if the metal used in the earrings is hypoallergenic?
Look for earrings made from hypoallergenic materials such as surgical stainless steel or titanium. These metals are less likely to cause allergic reactions.
Can I wear skull earrings with formal attire?
Absolutely! Skull earrings can add a touch of edginess and individuality to any outfit, including formal attire. Just make sure to choose an appropriate size and style that complements your overall look.