Backpack for Men: The Perfect Blend of Fashion and Utility
$92.00 & Free Shipping
Quantity
Discount
Discounted price
2
5%

$

87.40
3
10%

$

82.80
5
15%

$

78.20
10
20%

$

73.60
Satisfaction Guaranteed
No Hassle Refunds
Secure Payments
Frequently Bought Together
Description
Backpack for Men: The Perfect Blend of Fashion and Utility
Looking to up your style game while staying practical? Look no further than our backpack for men! This trendy backpack for men are the perfect blend of functionality and fashion, whether you're heading to work or embarking on a backpacking or an adventure. This bag have got you covered for all your travel needs.
Style & Versatile: Our backpack is perfect for men, as it has a stylish design and is made of high-quality leather. Its coffee color adds to its overall appeal and will match your personal style perfectly. From casual outings to professional settings, this versatile bag fit seamlessly into any occasion. It provides a convenient way to carry all your school essentials, from notebooks and laptops to travel gear and more.
Storage Space: This bag is for men and it is made of PU leather. It has a rectangular shape and a zip closure. It also has a zip pocket, a compartment for a computer, double shoulder straps, a soft handle, and a bag digging feature. Not only do our men's backpack offer ample storage space for backpacking , but they also make a statement. With its minimalist style and attention-grabbing details, our bag add an extra touch of flair to any outfit. So why settle for ordinary when you can rock a stylish backpack that turns heads wherever you go? Don't forget to pack your notebook!
Upgrade your travel accessory game with men's backpacks – the perfect combination of practicality and panache for backpacking, hiking, and carrying your laptop.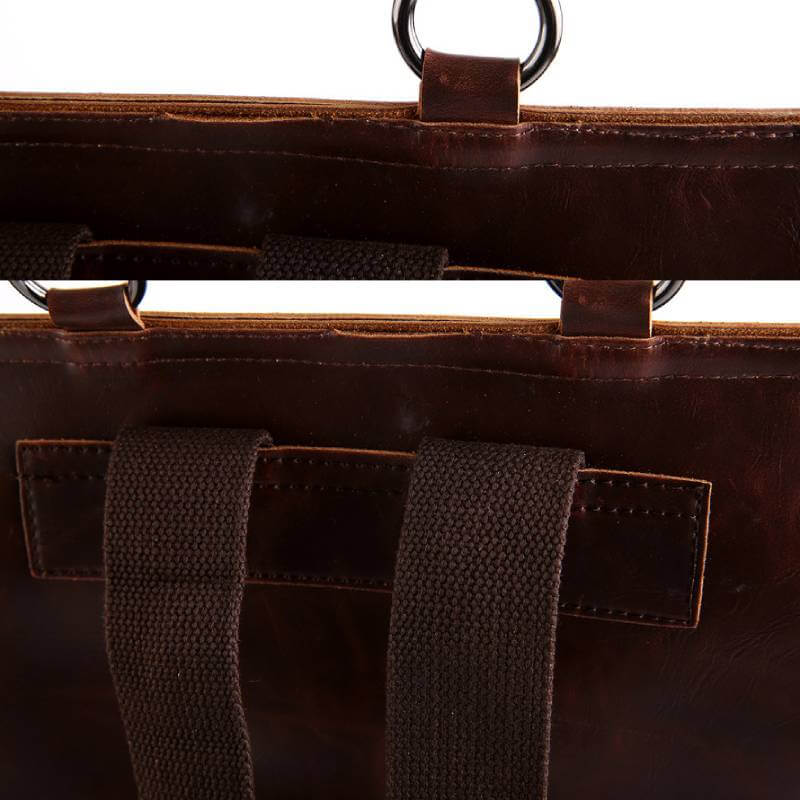 Additional information
| | |
| --- | --- |
| Weight | 1.00 kg |
| Dimensions | 200 × 180 × 30 cm |
| Color | Coffee |
| Age group | Adult |
| Gender | Male |
| Color | Coffee |
Tips
Fashion and practicality come together in the ideal backpack for men.
Ensure the backpack can hold all necessary items.

Consider the size of the travel backpack when determining the amount of space needed for laptops, books, or other items in a tactical backpack.

Opt for a laptop backpack with a usb charging port if you frequently carry electronic devices while traveling. This will allow you to conveniently charge your items on the go, even if you are away from a power source. Additionally, make sure your backpack is water-resistant to protect your belongings from unexpected spills or rain showers.
Comfortable Design
Look for padded shoulder straps and back panels in a laptop backpack, travel backpack, or tactical backpack for extended wear. Pay attention to the details.

Choose a backpack with adjustable straps to customize the fit for your laptop and other travel items.

Consider a tactical backpack if you require extra support during outdoor travel activities. This backpack is spacious enough to carry your laptop and other essential items, and it also features multiple USB ports for charging your devices on the go.
Weather Protection
Opt for water-resistant or waterproof materials when choosing a travel backpack, laptop backpack, or tactical backpack to safeguard your items from the elements.

Look for sealed zippers or rain covers in a laptop backpack, travel backpack, or tactical backpack to provide additional protection against rain or snow. Check out our new offers!
Organization and Accessibility
Multiple compartments help keep items organized and easily accessible.

Consider backpacks with dedicated pockets for specific items such as pens, keys, headphones, laptops, USB charging ports, and travel.

Look for a laptop backpack with a USB charging port if you need to charge your devices on the go. Our travel backpacks and tactical backpacks all come with this convenient feature. Plus, enjoy free delivery on all orders.
When choosing a backpack for travel, it is important for women to consider its functionality and features. The size and capacity of the backpack should be suitable to accommodate all necessary items. If you often carry laptops or electronic devices, opting for a laptop backpack with USB ports would be ideal. Comfort is crucial during extended wear, so look out for padded shoulder straps and back panels that provide extra support. For those who engage in outdoor activities, tactical backpacks offer enhanced durability and support.
Weather protection is also an essential aspect to consider when selecting a backpack for travel. Water-resistant or waterproof materials ensure that your laptop and other items remain safe from unexpected rain showers or spills. Sealed zippers or rain covers further enhance protection against moisture, making it a great choice for women who are looking for a reliable backpack.
Moreover, organization plays a significant role in keeping your laptop and other travel items easily accessible. Backpacks with multiple compartments enable efficient storage of various belongings while allowing quick access whenever needed. Dedicated pockets are useful for organizing smaller essentials such as pens, keys, or headphones for women who travel. Furthermore, the inclusion of a USB charging port in your backpack can be beneficial for charging devices on the go.
By considering these functionality and feature aspects, you can find a men's laptop backpack that meets your specific travel needs and enhances your overall experience. Make sure to check for a dedicated laptop port to safely carry your laptop, as well as enough space for other travel items.
FAQs
Can I use a men's backpack for traveling?
Absolutely! Men's laptop backpacks are versatile and can be used for various purposes including travel. Look for features like lockable zippers, hidden pockets, and sufficient capacity to accommodate all your travel essentials. With our free delivery service, you'll receive your laptop backpack in no time. Don't forget to check out the customer reviews and ratings to see why it has received five stars.
Are there any specific considerations when choosing a laptop-friendly men's backpack?
Yes! Ensure that the backpack has a dedicated padded compartment specifically designed to protect laptops or tablets. Consider factors such as size compatibility (to fit your device) and easy access to the laptop compartment. Don't forget to take advantage of our free delivery service available starting from Aug. Get the backpack with the best reviews and make sure it's equipped to protect your valuable devices.
How important is waterproofing in men's backpacks?
Waterproofing is crucial for men who frequently encounter wet weather conditions or engage in outdoor activities with their laptop. Look for backpacks made from water-resistant materials or those that come with a rain cover for added protection. Enjoy free delivery on all orders placed in Aug.
Can I find men's backpacks suitable for professional settings?
Absolutely! Many brands offer men's laptop backpacks with a sleek and professional design, featuring compartments to organize your work-related items such as documents, pens, and business cards. With free delivery, you can easily get your laptop backpack delivered to your doorstep. These backpacks are highly rated with five stars.
Are there any specific features to consider for comfort when choosing a men's backpack?
Yes! Look for features like padded shoulder straps, adjustable sternum straps, and back ventilation systems in a laptop backpack or tactical backpack. These elements contribute to better weight distribution and reduce strain on your shoulders and back during extended use.