Crossbody Bags for Women: Fashionable and Functional
$54.00 & Free Shipping
Quantity
Discount
Discounted price
2
5%

$

51.30
3
10%

$

48.60
5
15%

$

45.90
10
20%

$

43.20
Satisfaction Guaranteed
No Hassle Refunds
Secure Payments
Frequently Bought Together
Description
Crossbody Bags for Women: Fashionable and Functional – Embrace the Perfect Fusion of Style and Utility
Looking for a stylish leather handbag that keeps up with your on-the-go travel lifestyle? Look no further than our crossbody bags for women. These trendy companions offer the perfect blend of convenience and fashion-forward flair, making them the perfect purse for travel.
Fashion & Practical: Our crossbody bags for women feature a small oval pocket and a zip pocket on the front, providing convenient storage for your essentials. With their hands-free design, crossbody bags allow you to tackle life's adventures without being weighed down. Whether you're traveling, running errands, or enjoying a night out, these leather handbags provide easy access to all your essentials, including your phone.
Multiple Colors & Top materials: The versatility of crossbody bags, also known as handbags or purses, is unmatched. There are many different colors of crossbody bags for women to choose from. Some of these colors include black, brown, green, khaki, and white. With such a variety of options, every woman can find a bag that matches her personal style. Our crossbody purses comes with a small gold chain strap that adds a touch of elegance and extra PU strap that can be easily adjusted to your preferred length. With their sleek PU leather , these travel-friendly bags effortlessly elevate any outfit while keeping your hands free.
Save Money: You can enjoy a special offer of 15% off when you purchase our crossbody bags for women. Just enter the coupon code 'fashiontrends' at checkout to avail of this exclusive deal.
Our leather crossbody bags for women will become an essential part of your life. Their practicality combined with their fashion-forward appeal makes them the go-to purse for everyday use or special occasions. So why wait? Embrace the freedom and style that our crossbody bags for women bring to your wardrobe today!
Size: 23 cm x11 cm x 7 cm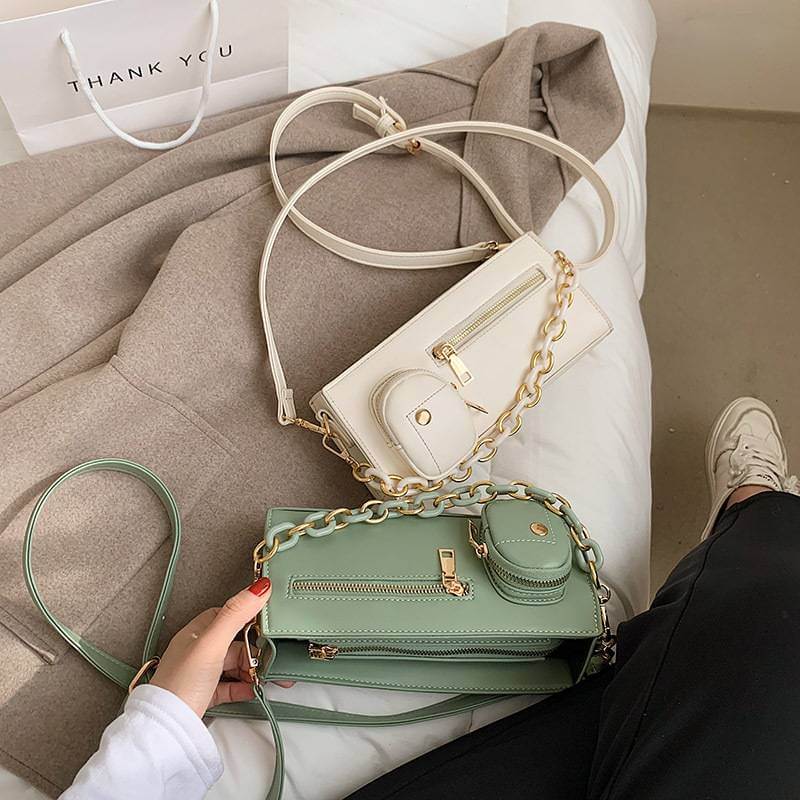 Additional information
| | |
| --- | --- |
| Weight | 0.42 kg |
| Dimensions | 250 × 130 × 100 cm |
| Color | Black, Brown, Green, Khaki, White |
| Color | Black, White, Brown, Green, Khaki |
| Gender | Female |
| Age group | Adult |
Tips
Choosing the Right Crossbody Bags for Women for Different Occasions
Making the right choice can elevate your everyday style. Whether you're heading to a formal event or going on a casual outing, finding the perfect crossbody bag is essential. Here are some tips to help you choose the ideal messenger bag or leather purse made from quality materials for any occasion.
Consider the size and compartments of the bag based on your needs.
Determine how much space you require for your essentials like your phone, wallet, and keys when choosing a compact leather messenger bag.

Look for multiple compartments in your small crossbody purse or crossbody handbag. Having separate sections in your crossbody purses can help keep things organized and easily accessible, especially if it is made of leather.
Opt for a sleek leather crossbody bag for formal events or business meetings.
Choose a sophisticated design: Sleek leather crossbody bags for women adds an elegant touch to your outfit.

Consider neutral colors like black, brown, or navy for your crossbody purses. These versatile options in leather can complement various ensembles, making them the perfect choice for a small crossbody handbag.

Pay attention to details when choosing crossbody purses. Look for leather bags with minimal embellishments or hardware for a more polished look.
For casual outings or travel, choose a lightweight and durable crossbody bag.
Prioritize comfort with lightweight crossbody bags for women that won't weigh you down during long walks or adventures.

Select durable materials for crossbody purses: Bags made from sturdy fabrics like nylon or canvas can withstand daily use and resist wear and tear.

Consider adjustable straps: Ensure the strap is adjustable so that you can customize it according to your comfort level.
Style Ideas
Tips for Pairing Crossbody Bags For Women with Outfits
Match the color of your crossbody bag with your shoes or other accessories.
Coordinate your bag's color with your shoes for a cohesive look.

Match the color of your bag to a statement accessory, like a belt or scarf.

Opt for neutral shades that go well with any outfit and accessories.
Pair a small crossbody bag with a dress or skirt for an elegant look.
Choose a small crossbody bag to complement the simplicity of a dress or skirt.

Opt for a sleek and structured design to add sophistication to your outfit.

Consider metallic or embellished details to elevate the overall look.
Go for a bold statement by contrasting the color of your bag with your outfit.
Select a vibrant crossbody bag that stands out against neutral-colored outfits.

Experiment with complementary colors to create an eye-catching contrast.

Use contrasting patterns or textures between your bag and clothing for added visual interest.
Remember, when styling crossbody bags, it's all about finding balance and creating harmony between your accessories and outfit. By following these tips, you can effortlessly enhance your overall look and make a stylish statement with your crossbody bags.
Conclusion: Elevate Your Style with the Perfect Crossbody Bag
Finding the perfect crossbody bag can truly elevate your style and enhance your overall look. Whether you're heading to a casual outing or a formal event, a well-chosen crossbody bag can add that extra touch of sophistication and convenience to your ensemble.
Consider factors such as size, material, and design. Opt for smaller bags with sleek designs for formal events, while larger bags with more compartments are ideal for everyday use or travel. By selecting the appropriate bag for each occasion, you can effortlessly elevate your style and make a fashion statement.
Pairing your crossbody bag with outfits is another key aspect to consider. Experiment with different colors and patterns to complement or contrast your attire. For instance, a bright-colored bag can add a pop of color to neutral-toned outfits, while a patterned bag can create an eye-catching focal point. Don't be afraid to mix and match styles – sometimes unexpected combinations can produce stunning results!
To ensure you make the most out of your crossbody bags, remember these essential tips:
Choose the right size and design based on the occasion.

Experiment with colors and patterns to enhance your outfit.

Mix and match styles for unique looks.
Now that you have all the information needed to choose the perfect crossbody bag, it's time to take action! Browse through our wide selection of stylish crossbody bags for women and find one that suits your taste and needs perfectly.
FAQs
Can I fit all my essentials in a crossbody bag?
Absolutely! Crossbody bags come in various sizes, so you'll easily find one that accommodates all your essentials without compromising style or comfort.
Are crossbody bags suitable for formal occasions?
Yes! Opt for smaller-sized crossbody bags with elegant designs and neutral colors to complement your formal attire.
Can crossbody bags be worn by women of all ages?
Absolutely! Crossbody bags are versatile and can be styled to suit any age group. Simply choose a design that matches your personal style.
Are crossbody bags comfortable to wear for long periods?
Yes! Crossbody bags distribute weight evenly across your body, providing comfort even during extended wear.
Can I find crossbody bags made from sustainable materials?
Certainly! Many brands now offer crossbody bags made from eco-friendly and sustainable materials, allowing you to make a fashion statement while being environmentally conscious.