Crossbody Bags: Stylish and Versatile Carriers for Fashionable Convenience
$29.00 & Free Shipping
Quantity
Discount
Discounted price
2
5%

$

27.55
3
10%

$

26.10
5
15%

$

24.65
10
20%

$

23.20
Satisfaction Guaranteed
No Hassle Refunds
Secure Payments
Frequently Bought Together
Description
Crossbody Bags: Stylish and Versatile Carriers for Fashionable Convenience
Trendy Bags: Looking for a versatile and functional accessory that keeps your hands free and your essentials close? Look no further than our crossbody bags. These trendy bags are designed to be worn across the body, providing convenience and style in one package. With a wide range of colors, available in high-quality materials , there's a crossbody handbag or purse to suit every taste and occasion. Whether you're running errands or jetting off on an adventure, these cross body bags are the perfect companion.
Functionality & Durability: Crossbody bags have become increasingly popular among women due to their practicality and fashion-forward appeal. Made from high-quality nylon and other durable materials, our bags offer both functionality and durability. Say goodbye to constantly readjusting your bag on your shoulder – with a secure strap that rests comfortably across the body, you can confidently go about your day without worrying about your bag slipping off.
Adjustable Strap: Don't compromise on style or convenience – you can get a crossbody bag, purse, or shoulder bag from our shop today. These bags are great because they give you the freedom to move around while still keeping all your important things close by. They are 31 cm wide, 16 cm tall, and 9 cm thick. You can make crossbody bags fit your outfit just the way you like by adjusting their straps.
Free Delivery & Free Gift: When you make your first purchase, we have a lovely gift waiting for you. Plus, you won't have to worry about paying for shipping because it's on us!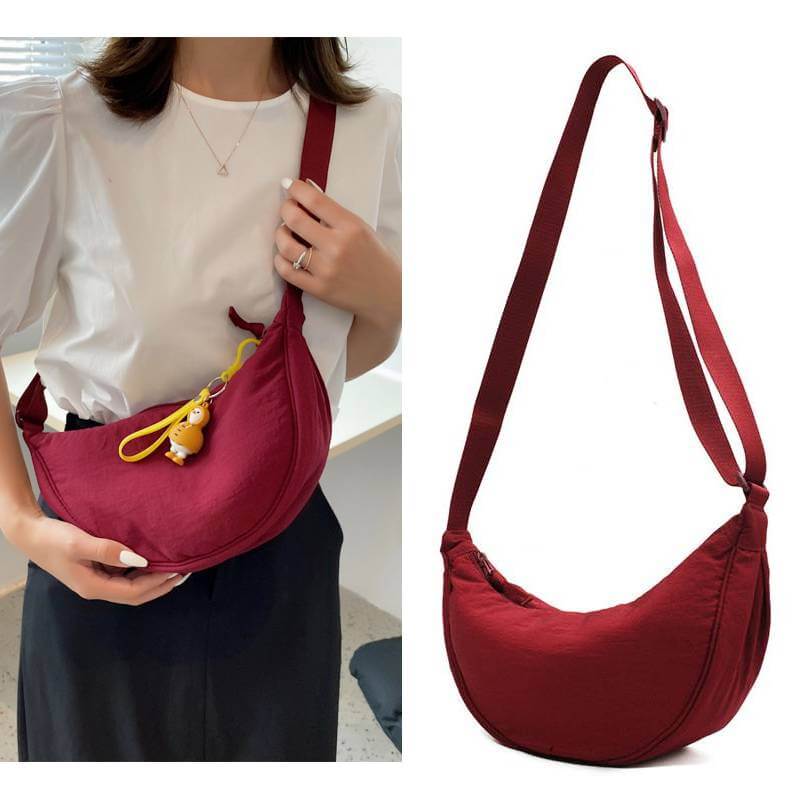 Additional information
| | |
| --- | --- |
| Weight | 0.12 kg |
| Dimensions | 310 × 160 × 40 cm |
| Color | Beige, Black, Gray, Lake Blue, Lemon Yellow, Olive Green, Orange, Wine Red |
| Gender | Female |
| Age group | Adult |
| Color | Black, Beige, Blue, Green, Grey, Orange, Red wine, Yellow |
The Right Choice
Choosing the Perfect Crossbody Bags
Crossbody Bags: Consider the size and capacity needed
When selecting a crossbody bag, it's essential to think about the sizes of handbags, messenger bags, and purses that will best suit your needs. Determine what items you typically carry on a daily basis, such as your phone, wallet, keys, or even a small notebook. If you require extra space for additional belongings like makeup or snacks, opt for larger-sized crossbody bags. On the other hand, if you prefer a more compact option for minimal essentials, go for smaller-sized ones.
Crossbody Bags: Look for adjustable straps for a comfortable fit
To ensure maximum comfort while wearing your crossbody handbag, search for options with adjustable straps. This feature allows you to customize the length of the shoulder strap according to your preference and body type. Whether you prefer it to sit higher up on your torso or lower at hip level, adjustable straps provide flexibility so that you can find the most comfortable fit for your leather purse.
Crossbody Bags: Choose a style that complements your personal taste
With various styles of handbags available in the world of crossbody bags – from messenger bags to shoulder bags, totes to hobos – it's important to choose one that aligns with your personal taste and fashion sense. Consider factors such as color (whether classic black or vibrant hues), overall design aesthetic (minimalistic or bohemian), and any specific features that catch your eye, such as unique closures or embellishments. Different sizes of leather purses are also available to suit your needs.
Crossbody Bags: Pay attention to the number of compartments and pockets
The number of compartments and pockets in a crossbody purse made of leather can greatly impact its functionality. Think about how organized you prefer to be when carrying your belongings. If having designated spaces for different items is crucial to you, look for options with multiple sizes of compartments and pockets. This way, you can easily access essentials like your phone or keys without rummaging through everything else.
Styling Tips
Styling Tips for Women's Crossbody Bags
Pair your casual outfits with a chic and effortless look by adding a leather crossbody bag. These shoulder bags come in various sizes and are perfect companions for your everyday attire, whether you're wearing jeans and a t-shirt or a flowy sundress. Instantly elevate your style with a fashionable crossbody purse.

Experiment with different strap lengths to find your preferred style for women's leather shoulder purses. Crossbody bags come in various shapes and sizes, allowing you to play around with different strap lengths for a more relaxed and bohemian vibe. Opt for a shorter strap if you prefer the purse to sit higher on your torso, or go for a longer strap for a more relaxed and bohemian vibe.

Coordinate the color of your leather purse with your overall outfit. Matching the color of your shoulder bag with your ensemble creates a cohesive and put-together look. Consider using different sizes, complementary colors, or even contrasting shades to make a bold fashion statement.

Use crossbody bags as statement pieces or subtle accessories. Depending on the occasion, you can either let your leather crossbody bag with a shoulder strap take center stage as a stylish focal point or use it as an understated accessory that complements the rest of your outfit.
When styling women's crossbody bags, keep these tips in mind for choosing the perfect purse. Opt for a high-quality leather material that will last. Consider the length of the strap to ensure it is comfortable and adjustable. Additionally, select from different sizes to find one that suits your needs.
Pairing options for Crossbody Bags:

Casual jeans and t-shirt

Flowy sundress

Bohemian-inspired outfits

Strap length experimentation:

Shorter straps for higher placement

Longer straps for a relaxed feel

Crossbody Bags, Color coordination:

Match bag color with outfit

Consider complementary or contrasting shades

Crossbody Bags, Style versatility:

Make the bag a statement piece

Use it as an understated accessory
By following these styling tips, you'll effortlessly enhance any outfit with the perfect women's crossbody bag! Whether you're looking for a stylish purse to carry on your shoulder or a convenient hands-free option, our curated list of crossbody bags has something for everyone. With a range of styles and prices, you're sure to find the perfect bag to suit your needs.
Crossbody Bags for Travel
Best Crossbody Bags for Travel
In conclusion, when searching for a crossbody handbag, prioritize functionality. Look for a small crossbody purse that offers ample storage space with multiple compartments to keep your belongings organized. Opt for a durable material that can withstand the rigors of travel. Consider the price as well.
Another important aspect of women's crossbody bags is the style. These versatile shoulder bags come in various designs and colors, allowing you to find one that suits your personal taste. Choose a purse that can be easily paired with different outfits and occasions during your trip. Consider the list of options and the price when making your selection.
To ensure you make the right choice, take note of these tips: create a list, consider the price, give Prime a try, and make your decision by August.
When choosing a crossbody purse, pay attention to the size of the bag. It should be compact enough to carry comfortably on your shoulder but spacious enough to hold all your essentials.

Opt for adjustable straps in your crossbody purse or cross body bag, so you can customize the length according to your preference. This is especially important when choosing a shoulder bag, as it allows you to find the perfect fit at an affordable price.

Consider security features such as zippered or flap closures and hidden pockets in your crossbody purse or shoulder bag to protect your valuables while traveling. Price should also be a factor when choosing a cross body bag.

Look for lightweight shoulder bags or crossbody purses that won't add unnecessary weight to your load. Make sure to check out our list of options.
Remember that investing in a well-made crossbody purse will ensure its longevity and durability throughout your travels. Quality matters, so consider the price and look for products with high ratings and stars.
Now that you have all the information you need, it's time to choose the best crossbody bag for your upcoming adventures! Don't hesitate – find a reliable retailer or browse online stores today and select the perfect travel companion. Consider the price, check out the list of options available for women, and take advantage of free delivery on Fridays.