Pandora Bracelets: Express Your Unique Style with Charm
$30.00 & Free Shipping
Quantity
Discount
Discounted price
2
5%

$

28.50
3
10%

$

27.00
5
15%

$

25.50
10
20%

$

24.00
Satisfaction Guaranteed
No Hassle Refunds
Secure Payments
Frequently Bought Together
Description
Pandora Bracelets: Express Your Unique Style with Charm – Create Your Own Story with Personalized Charms and Beauty
Unique Accessory: Looking for a customizable bracelet that captures your style and tells your unique story? Enter the enchanting world of Pandora bracelets, available at our store. Originating in Denmark, these one-of-a-kind accessories have taken the jewelry market by storm.
High-Quality Materials: Our Pandora bracelets are made with 925 sterling silver, which is a combination of stainless steel and alloy metals. Each bracelet is made with great skill and care, ensuring its durability with a silver-plated finish. Our pandora bracelets are designed to elevate your outfit with their stunning glass charm and heart-shaped zircon embellishments. Adding the heart pendant to your bracelet will give your style an elegant and classy touch.
All Style & Budget: Our store has a variety of options to choose from, so you can find the perfect Pandora bracelet no matter your budget or style preference. With the help of our experienced sellers, you'll be able to discover a wide range of bracelets that suit your taste and fit within your budget. From delicate sterling silver designs to trendy leather bands, there's something for everyone.
Multiple sizes & Colors: We have a variety of Pandora bracelets to choose from. They come in different sizes – 17 cm, 19 cm, and 21 cm. You can also find them in seven beautiful colors, including black, blue, red, pink, green, light blue, and white.
Love: Express your love, commemorate special moments, or simply add a touch of elegance with our Pandora bracelets. Let your personal style shine through and step into the enchanting realm of our store's Pandora bracelets.
Looking for a Pandora sterling silver bracelet? Check out our store for a wide selection of beautiful bracelets. Our shop offers affordable prices and high-quality items that you'll love. We work with reputable sellers, including a leather seller, to ensure the best products for our customers. Shop now and find the perfect bracelet for yourself or as a gift.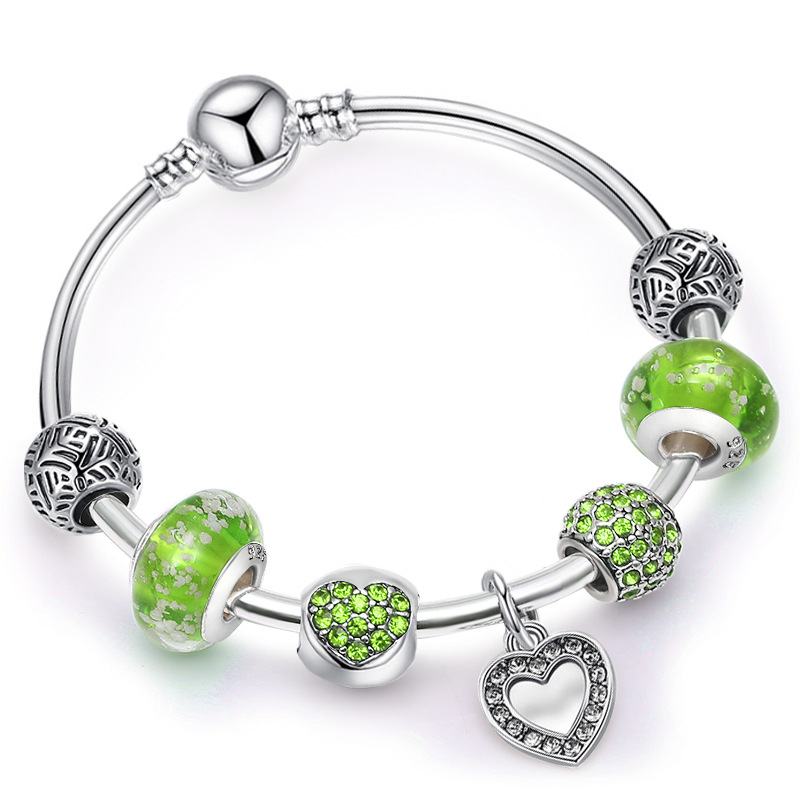 Additional information
| | |
| --- | --- |
| Weight | 0.05 kg |
| Dimensions | 230 × 230 × 100 cm |
| Size | 17cm, 19cm, 21cm |
| Color | Black, Blue, Coffee, Green, Light blue, Red, White |
| Color | Black, White, Blue, Coffee, Green, Light blue, Red |
| Gender | Female |
| Age group | Adult |
Types of Pandora
Types of Pandora Bracelets on the Market
Pandora bracelets, made of sterling silver, come in various styles, each offering a unique and fashionable look. Whether you prefer a classic, sleek, or adjustable design, there is a Pandora bracelet to suit your taste. Let's explore the different types available in the shop.
Classic Snake Chain Bracelets: These are the most popular style among Pandora enthusiasts. The snake chain design features interlocking links that create a smooth and elegant look. With countless charms to choose from, you can personalize your bracelet to reflect your personality and style.

Bangle Bracelets: If you're looking for a sleek and modern accessory, bangle bracelets are an excellent choice. They offer a minimalist yet chic appearance that can be worn alone or stacked with other bracelets for a trendy layered look.

Sliding Bracelets: For those who value versatility and adjustability, sliding bracelets are an ideal option. These bracelets feature an innovative design with an adjustable clasp that allows you to easily customize the fit to your wrist size. With their effortless charm and comfortable wearability, sliding bracelets are perfect for everyday use.
Consider your personal style preferences when shopping for sterling silver jewelry and how you plan to wear it. Classic snake chain bracelets in sterling silver offer timeless elegance, while bangle bracelets in sterling silver provide a contemporary touch. Sliding bracelets in sterling silver combine functionality with fashion-forward designs.
No matter which type of Pandora bracelet you choose, they all share one common trait – the ability to tell your unique story through carefully selected sterling silver charms and meaningful accessories. So go ahead and express yourself with a Pandora bracelet from our shop that reflects who you are!
How to open & Close Your Pandora?
Pandora Bracelets: How to Open and Close
To open a Pandora sterling silver bracelet, gently pry open the clasp using your fingernail or a clasp opener tool. Align the end of the bracelet with the groove in the clasp and press it closed until you hear a click. Make sure both ends of the bracelet are securely fastened before wearing. Don't forget to visit our shop for more sterling silver jewelry options.
Here's a step-by-step guide on how to open and close Pandora bracelets when you shop or a tutorial
Use your fingernail or a clasp opener tool to gently pry open the clasp in order to shop.

Align one end of the bracelet with the groove in the clasp to ensure a secure fit when you shop.

Press down on the other end of the bracelet to guide it into place within the clasp in the shop.

Apply gentle pressure when closing the shop until you hear a satisfying click, indicating that it is securely closed.

Check both ends of the bracelet in the shop to ensure they are tightly fastened.
Managing your Pandora bracelet is easy when you shop at our store. Opening and closing the bracelets requires precision and care to avoid any damage or loss. By following these steps, you can easily manage your bracelet without any hassle.
Remember, always handle your Pandora bracelet delicately to maintain its beauty and longevity. With proper care, your bracelet will continue to be a cherished accessory for years to come. So, make sure to shop for high-quality Pandora bracelets.
So next time you want to shop for Pandora bracelet or put on or take off your Pandora bracelet, remember these simple instructions for opening and closing it securely.
Sizing Tips
Sizing Tips for Pandora Bracelets
In conclusion, when shopping for Pandora bracelets, there are a few key tips to keep in mind. First, familiarize yourself with the different types of Pandora bracelets available in the shop. This will help you choose the style that suits your personal taste and preferences.
Next, understanding how to open and close your Pandora bracelet is essential for a secure wearing experience. By following the proper technique, you can ensure that your bracelet stays securely fastened while shopping.
To ensure a comfortable fit, shop for a Pandora bracelet after accurately measuring your wrist. This will help you find the appropriate size and prevent any discomfort or sliding on your wrist.
Consider leaving some room in your shop for charms and other accessories. As you add these elements to your bracelet over time, it's important to have enough space for them without compromising comfort.
Remember to shop for the right size bracelet that fits your unique wrists. Personal preference and desired snugness are important factors to consider when selecting a bracelet. Keep in mind that what works for someone else may not work for you.
To make an informed decision about sizing, consult with an experienced jeweler at a Pandora shop who can provide expert advice based on their knowledge of Pandora bracelets.
Overall, finding the perfect fit for your Pandora bracelet involves considering various factors such as style preference, proper opening and closing techniques, accurate measurements of your wrist size, leaving room for charms, seeking guidance from professionals if needed, and visiting a Pandora shop.
Now that you have a better understanding of sizing tips for Pandora bracelets, go ahead and shop the wide range of options available in our online store! Find the ideal fit that reflects your unique style and personality while creating lasting memories with every charm added to your collection.
FAQs
How do I measure my wrist accurately for ?
To accurately measure your wrist size for a Pandora bracelet, use a flexible measuring tape or a string from our shop. Wrap the tape or string snugly around your wrist just above the bone, ensuring it's not too tight. Then, measure the length of the tape or string to find your perfect fit.
Can I add charms to my Pandora bracelet later?
Yes, you can shop for charms to add to your Pandora bracelet at any time. The bracelets are designed with special threading that allows you to easily shop for and screw on and off the charms, giving you the flexibility to customize your bracelet as desired.
What if my Pandora bracelet is too loose?
If your Pandora bracelet feels too loose on your wrist, you can try adding additional clips or spacers from our shop between the charms. These accessories help prevent the charms from sliding around and can provide a more secure fit.
Are all Pandora bracelets the same size?
No, Pandora bracelets come in various sizes to accommodate different wrist sizes. It's important to choose the right size when you shop for a bracelet, ensuring it fits comfortably without being too tight or too loose. Refer to their sizing guide or consult with a jeweler for assistance.
Can I wear my Pandora bracelet while swimming or showering?
It is generally recommended to remove your Pandora bracelet before swimming or showering. Exposing it to water and chemicals may cause damage to the shop over time. To maintain the quality of your shop and extend its lifespan, it's best to keep it dry whenever possible.