Stainless Steel Rings: Effortless Elegance in Every Band
$25.00 & Free Shipping
Satisfaction Guaranteed
No Hassle Refunds
Secure Payments
Frequently Bought Together
Description
Stainless Steel Rings: Contemporary Charm in Every Ring
Material: Looking for affordable yet stylish jewelry options? Look no further than our stainless steel rings. These versatile items are not only easy on the wallet but also offer an array of benefits. Made from nickel-free surgical steel, our steel rings are a popular choice for both men and women. Unlike traditional rings, stainless steel rings, made with nickel-free stainless steel, are resistant to tarnish, rust, and corrosion, ensuring durability that lasts.
Colors & Size: You can find our brushed design band rings in three cool colors: silver, black, and gray. We have a wide selection of stainless steel rings that come in various sizes, ranging from 7 cm to 13 cm. These rings are 15 cm wide and can be found on our Etsy shop. Men particularly love these steel rings.
Bonus: Buy this ring now and receive a lovely gift with no charge for shipping. With a wide variety of nickel steel rings available on Beauty Deals Shop, men can find the perfect items to suit their personal style. Whether you prefer sleek and modern or bold and edgy, we offer a wide collection of stainless steel rings for men. These nickel-free items have got you covered. It's time to get yours now!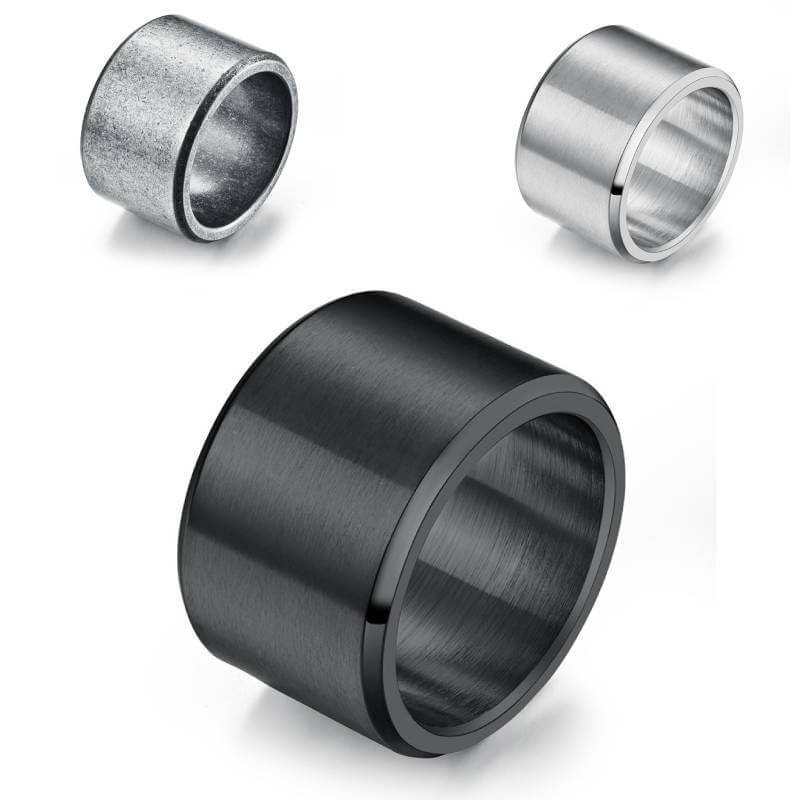 Additional information
| | |
| --- | --- |
| Weight | 0.02 kg |
| Dimensions | 100 × 100 × 20 cm |
| Color | Gray, Black, Silver |
| Dimensions | 10, 11, 12, 13, 7, 8, 9 |
| Color | Black, Grey, Silver |
| Gender | Male |
| Age group | Adult |
Benefits
Durability and Benefits of Stainless Steel Rings
Highly Durable Material
Stainless steel rings on Etsy are made from a highly durable material that can withstand the rigors of daily wear. Whether you're working with your hands, playing sports, or simply going about your day-to-day activities, these surgical steel rings are built to last. They are resistant to scratches, dents, tarnishing, and made of surgical steel, making them an excellent choice for those seeking long-lasting jewelry.
Hypoallergenic Properties
If you have sensitive skin or allergies, stainless steel rings are a great option. Unlike some other metals, stainless steel is hypoallergenic, meaning it is less likely to cause irritation or allergic reactions. This makes it suitable for individuals who may have trouble wearing certain types of jewelry due to their skin's sensitivity.
Low Maintenance
One of the advantages of stainless steel rings is their low maintenance nature. Unlike silver or gold rings that may require frequent polishing to maintain their shine, stainless steel rings require minimal cleaning and care. A simple wipe with a soft cloth is usually sufficient to keep them looking their best. This makes them ideal for those who prefer fuss-free accessories that still look stylish.
Long-Lasting Investment Piece
Investing in a stainless steel ring means investing in a piece of jewelry that will stand the test of time. These rings are known for their durability and longevity, making them a smart choice for anyone looking to build a lasting jewelry collection. With proper care, they can retain their beauty and shine for years to come.
Statement Jewelry
Wide Ring: A Bold Statement Piece
The wide ring is a striking accessory that adds a bold touch to any outfit. Its eye-catching design makes it perfect for those who want to make a fashion statement or express their personal style. With its wide band, this ring not only provides a comfortable fit but also has a substantial presence on the finger.
One of the great things about wide rings is their versatility. They can be worn alone as a standalone piece or stacked with other rings for a trendy and fashionable look. Whether you're going for an edgy vibe or a more bohemian feel, the wide ring can complement any style.
If you're looking to purchase a wide ring, there are many options available online. Websites like Etsy have an extensive collection of unique and handmade rings from various sellers. Take your time browsing through different items and read customer reviews to ensure you're getting high-quality products.
Most sellers offer worldwide delivery, so you can get your hands on these stylish accessories no matter where you are located. Stainless steel rings have gained popularity among men in recent years due to their durability and masculine appeal.
Versatility
Versatility of Stainless Steel Rings
Stainless steel rings offer a level of versatility that is unmatched by other materials. Whether you're looking for a sleek and modern design or a bold statement piece, stainless steel rings can effortlessly complement any style. The durability of stainless steel ensures that your ring will withstand the test of time, making it a long-lasting investment for your jewelry collection.
Not only are stainless steel rings durable, but they also offer a range of benefits. They are hypoallergenic, making them suitable for those with sensitive skin. Stainless steel is resistant to tarnish and corrosion, ensuring that your ring will maintain its shine and beauty even after years of wear.
So why wait? Embrace the versatility and durability of stainless steel rings today. Enhance your personal style with a sleek and modern touch or make a bold fashion statement with an eye-catching design. Explore our collection now and find the perfect stainless steel ring to express your unique personality.
FAQs
Are stainless steel rings resizable?
Yes, most stainless steel rings can be resized by professional jewelers. However, it's important to note that not all designs may be easily resizable due to intricate patterns or settings.
Can I wear a stainless steel ring every day?
Absolutely! Stainless steel rings are highly durable and can withstand daily wear without losing their shine or shape.
Will a stainless steel ring tarnish over time?
No, one of the benefits of stainless steel is its resistance to tarnish and corrosion. Your ring will maintain its luster even after prolonged use.
Are stainless steel rings suitable for people with metal allergies?
Yes, stainless steel is hypoallergenic and safe for those with metal allergies or sensitive skin.
How do I clean my stainless steel ring?
Cleaning your stainless steel ring is simple – just use mild soap, warm water, and a soft cloth to gently wipe away any dirt or residue. Avoid using harsh chemicals or abrasive materials that could damage the ring's surface.