Sale!
Tourmaline Necklace: Colorful Elegance for Every Occasion
& Free Shipping
Satisfaction Guaranteed
No Hassle Refunds
Secure Payments
Frequently Bought Together
Description
Tourmaline Necklace: Graceful Adornments in Color
Materials: You will still remember the moment you will lay eyes on it – our stunning pink tourmaline necklace set in yellow gold, adorned with sky blue and lemon crystals, and white zircon pendants, that radiated with vibrant hues. The handmade 18k gold plating view of the pendant will instantly captivate you, and it's time to make it yours. Little thing you should know then that this handmade sterling silver pendant necklace from jewelry beauty deals shop would not only become a cherished accessory but also a symbol of your unique personal style.
Size: The necklace has a tourmaline pendant that is oval in shape and measures 3 cm. It comes with a gold cable link chain that is 43 cm long. This makes it suitable for any type of neckline.
History: Tourmaline, a gemstone known for its diverse range of colors including pink tourmalines, aquamarine, citrine, and garnet, has been adored throughout history. From ancient civilizations to modern fashion runways, pink tourmalines, yellow gold pendants, diamond pendants, and aquamarines have held an enduring allure. Crafted using various techniques, such as cabochon cuts or faceted designs, these necklaces showcase the natural beauty and versatility of tourmalines, diamond pendants, garnets, aquamarines, and amethysts.
Bonus: Get this necklace for half the price and you'll get a beautiful gift with free delivery. Wearing a tourmaline necklace, goes beyond mere fashion; it is an expression of individuality and self-confidence. With our pink tourmaline necklace you will add a touch of elegance to any ensemble.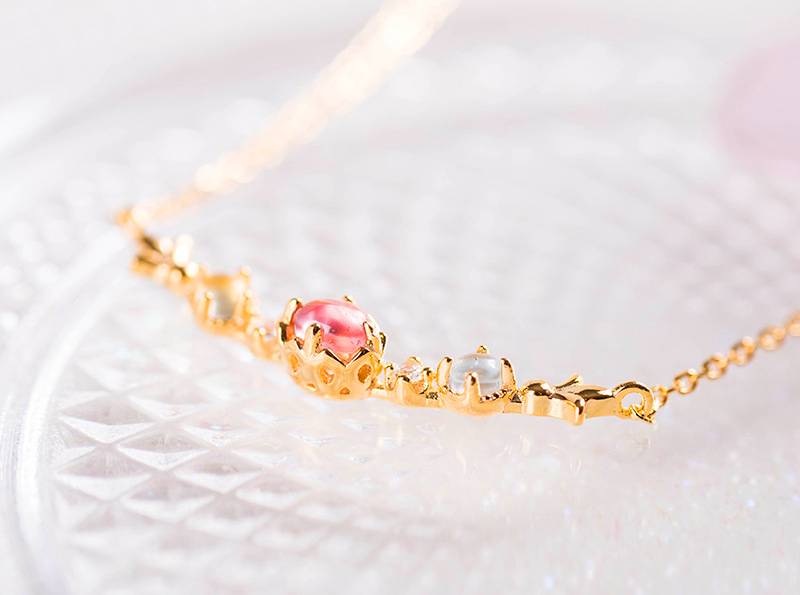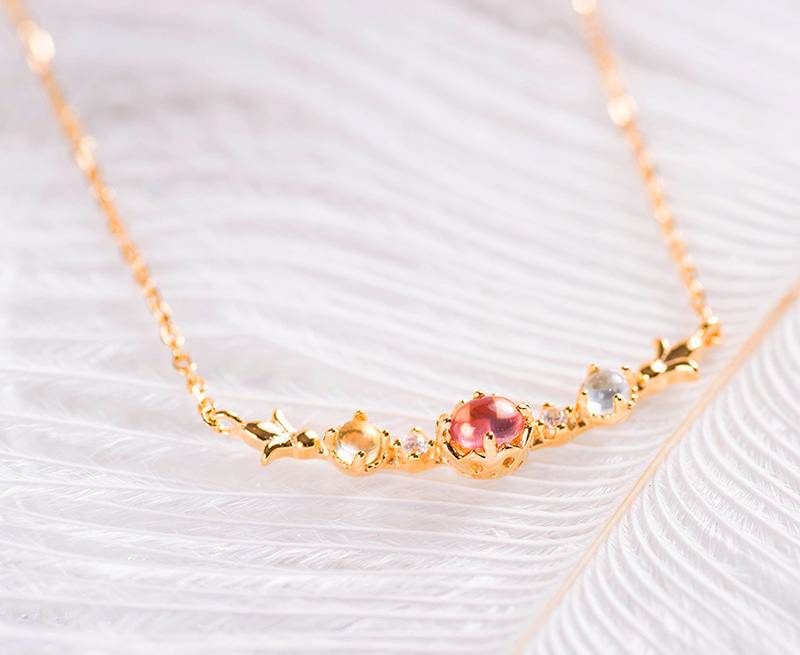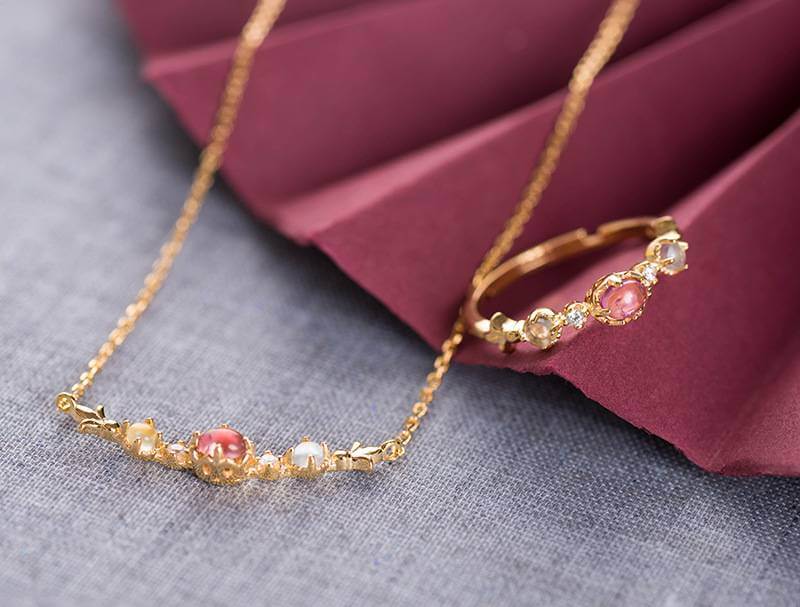 Additional information
| | |
| --- | --- |
| Weight | 0.01 kg |
| Dimensions | 100 × 100 × 20 cm |
| Style | Necklace, Ring |
| Color | Pink |
Beauty of October Birthstone
Embrace the Beauty of Tourmaline Necklaces
The vibrant colors and unique patterns found in tourmaline, garnet, and amethyst gemstones make them truly captivating. Their eye-catching appeal can enhance any outfit effortlessly, especially when paired with a stunning diamond pendant. Diamonds, with their timeless beauty and sparkle, add an extra touch of elegance to the ensemble. These diamond and tourmaline pendant necklaces are incredibly versatile, suitable for both casual and formal occasions. Whether you prefer the elegance of a diamond pendant or the vibrant beauty of a tourmaline cabochon, these necklaces will add a touch of glamour to any outfit. Investing in a high-quality tourmaline necklace, diamond pendant, amethyst, garnet, and white diamond is definitely worth it for long-lasting beauty.
Vibrant Colors and Unique Patterns
Tourmaline gemstones, including garnet and diamond pendants, come in a wide array of vibrant colors, ranging from deep greens and blues to pinks and purples. These colorful gemstones can be beautifully set in yellow gold to enhance their natural beauty. When adorned with diamonds, the yellow gold view of the pendant becomes even more stunning. The mesmerizing pink color variations within a single garnet stone are often referred to as watermelon tourmaline due to their resemblance to the fruit's hues. This stunning garnet diamond pendant showcases the beautiful diamonds and the captivating pink tones of the stone. Each tourmaline pendant and diamond pendant showcases the natural beauty of rubellite tourmaline and green tourmaline gemstones, making every piece one-of-a-kind.
Eye-Catching Appeal
Wearing a pink tourmaline necklace instantly adds a pop of color and allure to any outfit. Whether it's a diamond pendant or a garnet necklace, the vibrant hues of pink will make a statement. Pair it with a white gold chain for a touch of elegance. Whether you opt for a contemporary pendant necklace adorned with diamonds and garnet gemstones or a lucky beetle necklace made with yellow gold, these pieces in the category of materials diamond and garnet are sure to turn heads wherever you go. View our collection now. The combination of the contemporary pendant necklace with the colorful natural tourmaline stones and intricate designs creates an eye-catching lucky beetle necklace that is both fashionable and unique.
Versatility for Any Occasion
One of the great advantages of tourmaline necklaces is their versatility, especially when paired with a stunning garnet pendant adorned with diamonds. These necklaces are available in various karat options, allowing you to choose the perfect one for your style and preference. The contemporary pendant necklace, made of white gold and adorned with diamonds, can be worn with casual attire for an everyday look or paired with formal wear for special occasions. See full details. From yellow gold pendants featuring pink tourmalines and garnets to diamond necklaces accented with green tourmalines and garnets, there is a style that suits every taste and occasion. For full details, view our collection.
Long-Lasting Beauty
Investing in a high-quality tourmaline pendant, made of white gold or yellow gold, ensures that you will enjoy its beauty for years to come. View our wide selection of tourmaline necklaces in our category, and choose from different materials such as white gold or yellow gold, with or without diamonds. These necklaces are crafted using durable materials such as karat white gold or rose gold, ensuring longevity without compromising on style. Each necklace features a stunning tourmaline pendant, adorned with natural tourmaline and sparkling diamonds. The pendant showcases a beautiful green tourmaline, adding a touch of elegance to the design. The exquisite combination of tourmalines with other gemstones like citrine, amethyst, aquamarine, garnet, or jade adds an extra touch of elegance and sophistication to the necklace. This necklace is made with category materials such as diamond, white gold, and yellow gold. To view this stunning piece, visit our website.
Tourmaline necklaces, available in both white gold and yellow gold, are a stunning choice for those who appreciate the beauty of gemstones. Whether you prefer a pendant or a necklace in the category of materials like diamond, tourmaline necklaces are sure to make a statement. With their vibrant colors and unique patterns, these tourmaline pendants in yellow gold and white gold are sure to make a statement wherever you wear them. Add a touch of elegance and style to your look with a stunning pink tourmaline pendant in yellow gold or white gold. So why not embrace the beauty of tourmaline and add a touch of elegance to your jewelry collection with a necklace made of white gold or yellow gold? This stunning piece is crafted using high-quality materials, including diamonds, and falls under the category of fine jewelry.
Colors & More
Types and Varieties of Tourmaline Necklaces
Yellow gold and white gold tourmaline necklaces, made with category materials like diamond, come in a variety of types and colors, each with its own unique beauty. Let's explore the different types of tourmalines, such as the diamond necklace, and how they can be accentuated through various cuts and shapes. Whether it's in white gold or yellow gold, these materials enhance the beauty of the tourmalines.
Various Types of Tourmalines
Tourmalines are available in an array of stunning colors, including green, pink, blue, and black. These beautiful gemstones can be set in yellow gold or white gold to enhance their natural beauty. When choosing a setting for your tourmaline, consider the gold view options available in both yellow gold and white gold. Additionally, tourmalines can be paired with other category materials like diamonds to create a unique and eye-catching piece of jewelry. Each type has its own distinct charm and appeal.
Green tourmaline necklaces exude a fresh and vibrant energy.

Pink tourmaline necklaces showcase a delicate and feminine allure.

Blue tourmaline necklaces emanate a serene and calming vibe.

Black tourmaline necklaces, made with white gold or yellow gold pendants, exude an air of mystery and elegance. These necklaces are crafted with high-quality materials and often feature a stunning diamond.
Accentuating Beauty through Cuts and Shapes
The cut and shape of a tourmaline pendant necklace, made with category materials such as diamond, white gold, or yellow gold, play a crucial role in enhancing its overall beauty. Different cuts can bring out the best features of each type of tourmaline in the diamond category. Whether it's a necklace made of white gold or yellow gold, the right cut can enhance the beauty of the gemstone.
Faceted cuts create dazzling reflections, adding sparkle to the rubellite tourmaline pendant. The necklace is made with category materials diamond and green tourmaline.

Cabochon cuts highlight the smoothness and depth of color in gemstones like diamonds, green tourmalines, and pink tourmalines, making them perfect for creating stunning necklaces.

Mixed cuts combine facets and smooth surfaces for a unique visual effect using green tourmaline, diamond, and pink tourmaline. These category materials tourmaline create a stunning and captivating design.
Availability and Rarity
Certain types or colors of tourmalines, such as yellow gold, white gold, and pink, may be more readily available than others. While some varieties of yellow gold are abundant, others like green tourmaline are rarer to find. Check out our full details for a gold view. The rarity factor adds to the exclusivity and value of certain tourmaline necklaces, especially those adorned with diamonds and crafted in white gold or yellow gold.
Customization Options
One exciting aspect of tourmaline necklaces is the ability to customize them with a pendant made of yellow gold or white gold, and adorned with a beautiful diamond. This allows individuals to personalize their necklace based on their preferences. From selecting the type of diamond, color of pendant, cut of white gold, shape of yellow gold, to even incorporating other gemstones or metals into the design – there are endless possibilities for creating personalized tourmaline necklaces that truly reflect one's style.
Healing
The Healing Properties of Tourmaline Necklaces
Tourmaline pendant necklaces, adorned with stunning diamonds, not only exude beauty but also possess remarkable healing properties that can benefit you in various ways. Whether crafted in yellow gold or any other precious metal, these pendant necklaces are a sight to behold and offer a mesmerizing gold view. The unique energy of tourmaline, combined with a stunning yellow gold pendant, can help balance your mind, body, and spirit. This promotes a sense of overall well-being, while adding a touch of elegance with a diamond necklace. By wearing a tourmaline pendant necklace, you invite positive energy into your life, helping to alleviate stress and anxiety. The pendant is made of yellow gold and features a diamond for an elegant and luxurious look. With its gold view, this pendant will surely enhance your style and bring positivity to your day. The green tourmaline pendant necklace, adorned with diamonds, can provide comfort during challenging times and aid in emotional healing. Its calming vibrations make it an ideal choice for those seeking solace. Moreover, the yellow gold pendant necklace with a diamond enhances creativity and self-expression, empowering you to embrace your true potential.
If you're seeking a beautiful piece of jewelry that offers both aesthetic appeal and holistic benefits, consider investing in a tourmaline pendant. This stunning pendant is adorned with a sparkling diamond and crafted in yellow gold, creating a captivating gold view. Whether you're drawn to the vibrant hues of green tourmaline and pink tourmaline or intrigued by the sparkle of diamonds, this gemstone necklace has something unique to offer everyone. Embrace the power of tourmaline and experience its transformative effects on your life with a stunning diamond necklace pendant in yellow gold.
FAQs
Can wearing a tourmaline necklace improve my health?
Wearing a tourmaline pendant necklace made of yellow gold with a diamond pendant is believed to have several health benefits. The gold view of the pendant enhances these benefits. The green tourmaline and pink tourmaline stones' energy is thought to help balance the body's electromagnetic field and promote overall well-being. This can be achieved by wearing a necklace adorned with these stones, along with diamonds.
How do I choose the right type of tourmaline necklace?
When choosing a tourmaline pendant necklace, consider factors such as color preference, shape, size, and quality of the gemstone. Whether you prefer a diamond pendant or a tourmaline pendant, the yellow gold view will enhance its beauty. When choosing a necklace, it's crucial to find a reputable jeweler who offers authentic diamond pieces in yellow gold. The perfect pendant awaits you.
Are there any specific care instructions for tourmaline necklaces?
To keep your yellow gold pendant necklace with a diamond pendant looking its best, avoid exposing it to harsh chemicals or extreme temperatures. Make sure to handle your gold view with care to maintain its beauty. Clean your yellow gold necklace with a green tourmaline pendant gently using warm soapy water and store it separately from other jewelry items.
Can I wear a tourmaline necklace every day?
Yes! Tourmalines are durable gemstones suitable for everyday wear. However, be mindful of any specific care instructions provided by the jeweler to ensure the longevity of your yellow gold pendant with a diamond and green tourmaline.
Can tourmaline necklaces be worn by anyone?
Tourmaline pendant necklaces can be worn by anyone who appreciates the beauty of the diamond and desires to benefit from their healing properties. The yellow gold pendant enhances the view and adds an elegant touch to the necklace. However, it's always advisable to consult with a healthcare professional if you have any specific health concerns.