Tourmaline Ring: Exquisite Beauty in Vivid Gemstones for Timeless Elegance
$125.00 & Free Shipping
Satisfaction Guaranteed
No Hassle Refunds
Secure Payments
Description
Tourmaline Ring for Women: Graceful Adornments in Color
Every gemstone, including tourmaline, has a story to tell. With its vibrant colors and bright sparkle, tourmaline is a popular choice for engagement rings. Our beautiful pink tourmaline ring has a classic design that makes it an ideal choice for your wedding.
Materials: Our beautiful tourmaline ring is made from sterling silver and features an 18k gold plating. This lovely piece of jewelry is crafted in a yellow gold color. It features a beautiful tourmaline stone, lemon crystal and white zircon, creating a stunning combination of colors. When you wear this ring, you'll be showing off a fashionable piece that has a rich history and captivating colors.
Adjustable: Tourmaline rings are a popular choice for people who want a special and attention-grabbing piece of jewelry. The ring shines brightly and adds to its charm. Our ring showcase the beautiful colors of nature that you can enjoy by wearing them on your finger.
Bonus: When you buy our beautiful tourmaline ring, you'll receive a wonderful gift and free shipping. Get ready to embrace the enchanting allure of tourmaline engagement ring and the captivating sparkle it bring. The tourmaline ring, especially the one with pink tourmaline, is definitely going to impress you with its stunning beauty.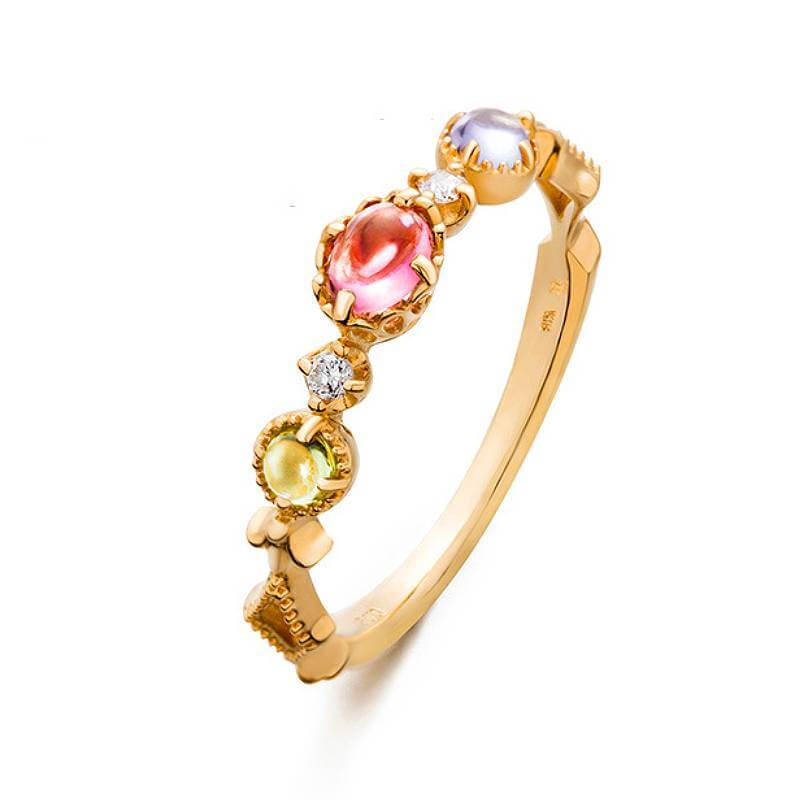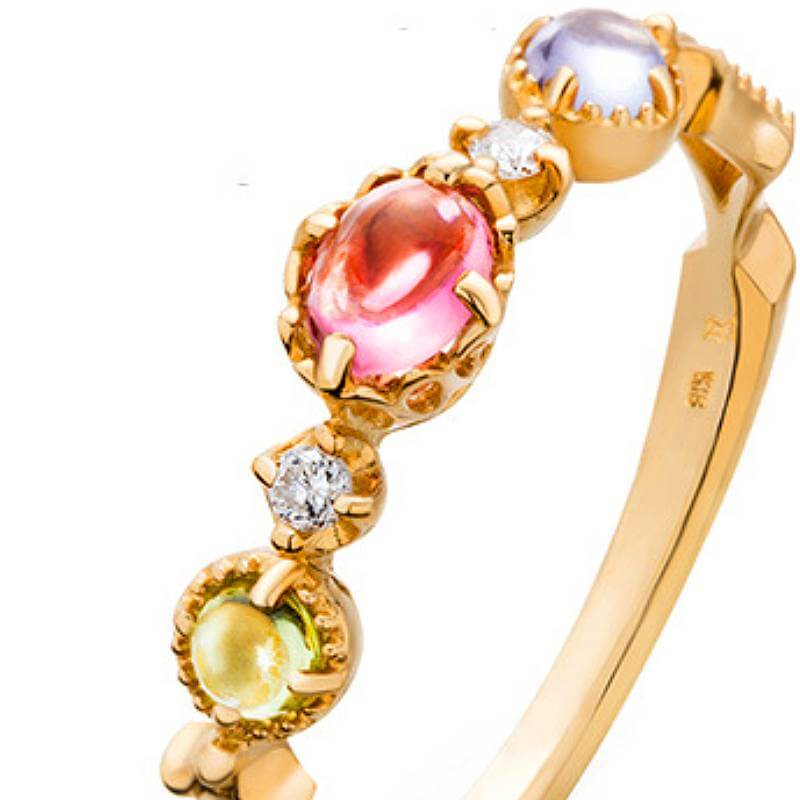 Love this tourmaline Necklace click on the picture below.

Additional information
| | |
| --- | --- |
| Weight | 0.01 kg |
| Dimensions | 100 × 100 × 20 cm |
| Style | Necklace, Ring |
| Color | Pink |
| Gender | Female |
| Age group | Adult |
Sterling Silver
Sterling Silver Tourmaline Rings for Women
If you're looking for an affordable and durable option, a unique ring made of white gold or yellow gold is a fantastic choice. Not only does the tourmaline engagement ring offer a stunning look, but it also provides versatility in terms of design, style, size, and colors. You can find more information on our product page.
Affordability and Durability
Sterling silver rings are more affordable compared to white gold or yellow gold rings, making them a great option for those looking for a budget-friendly alternative. However, if you're in the market for a more luxurious option, consider investing in a rose gold ring. Another beautiful option is a pink tourmaline ring, which adds a touch of elegance and femininity to any outfit. Maine is known for its high-quality gemstones, and their pink Maine tourmaline rings are especially sought after. When choosing a ring, be sure to consider the size that will best fit This makes them an excellent option for those who want a beautiful yellow gold ring, white gold ring, or rose or pink Maine tourmaline piece of jewelry without breaking the bank. Sterling silver, white gold, yellow gold, and pink gold are all known for their durability, making them suitable for everyday wear.
Various Designs and Styles
There is no shortage of options in terms of designs and styles, whether you're looking for a pink or rose color, different sizes, or want to explore the product page. From elegant solitaire settings in white gold, yellow gold, and pink to intricate halo designs, you can find a ring that suits your personal taste and preferences on our product page. Whether you prefer a simple yellow gold band or a more elaborate design with white gold and gemstone accents, there is something for everyone, including the option of a gold ring with Maine tourmaline.
Stunning Look with Sterling Silver and Tourmaline Combination
The combination of sterling silver and tourmaline, along with a gold ring, creates a captivating look that is both timeless and eye-catching. Whether you choose white gold, yellow gold, or pink gold, this combination is sure to make a statement. The bright sparkle of the tourmaline gem against the backdrop of the lustrous white gold enhances the overall beauty of the ring. Visit our product page to see this stunning ring available in yellow gold and pink options. It's a perfect blend of elegance and sophistication.
Meaning
The Significance of Tourmaline Rings: Symbolism and Meaning
Belief in Protection and Positive Energy
Maine is known for its beautiful tourmaline rings, available in white gold and yellow gold. These rings are believed to bring protection and positive energy to the wearer. Visit our product page to explore our selection. Many people in Maine think that wearing a tourmaline ring, whether in white gold or yellow gold, on their product page can shield them from negative influences and promote a sense of security. The yellow gold ring with a maine tourmaline creates a protective aura around the wearer, keeping them safe from harm. Visit our product page for more details.
Colors and Their Meanings
Different colors of tourmaline are associated with specific meanings. For example, a yellow gold ring with pink tourmaline is often linked to love, compassion, and emotional healing. This type of ring can be found at Harvest Gold Gallery in Maine. Green tourmaline represents growth, abundance, and vitality. Black tourmaline is believed to offer protection against negativity and promote grounding. Whether you're wearing a gold ring or a yellow gold necklace, this powerful stone can help you feel more secure and connected. If you're in Maine, be sure to check out the local jewelry stores for stunning pieces featuring black tourmaline. Each color, including yellow gold and Maine tourmaline, carries its own symbolism, allowing individuals to choose a ring that aligns with their personal intentions or desires.
Symbolism of Personal Growth and Balance
Wearing a yellow gold tourmaline ring in Maine can symbolize personal growth and balance. It serves as a reminder for individuals to strive for self-improvement while maintaining equilibrium in their lives, whether they wear a beautiful gold ring or a stunning Maine tourmaline. The energy of the Maine tourmaline stone is thought to encourage emotional stability, enhance spiritual awareness, and foster inner strength. This gold ring showcases the powerful properties of Maine tourmaline.
Enhancing Well-Being
In addition to its symbolic meaning, tourmaline is also known for its potential health benefits. This gemstone is often found in the state of Maine, which is known for its rich deposits of gold. Some believe that gold and Maine tourmaline can help alleviate stress, anxiety, and depression by promoting relaxation and tranquility. It may also aid in boosting the immune system and improving overall well-being, especially when combined with gold and Maine tourmaline.
FAQs
What is the significance of tourmaline rings?
Tourmaline rings, especially those made with gold, hold great significance in Maine as they symbolize love, friendship, and positive energy. The vibrant colors of gold and tourmaline gemstones in Maine represent joy and happiness. Wearing a tourmaline ring made of gold in Maine is believed to enhance one's creativity, strengthen relationships, and promote emotional well-being.
Are all tourmalines the same color?
No, not all tourmalines are the same color. In fact, one of the remarkable characteristics of Maine tourmaline is its wide spectrum of colors, including gold. Tourmalines can be found in various shades such as pink, green, blue, yellow, purple, red, and even black. These gemstones are often associated with the state of Maine, known for its rich deposits of gold. Each gold color variation, including Maine tourmaline, has its own unique charm and appeal.
Can tourmaline rings be resized?
Yes, gold tourmaline rings in Maine can typically be resized by a professional jeweler. However, it's important to consult with a reputable jeweler who specializes in resizing gemstone rings, such as maine tourmaline, to ensure that the process is done correctly without damaging the stone or the setting.
How should I care for my tourmaline ring?
To keep your gold tourmaline ring looking its best in Maine, it is recommended to clean it regularly using mild soap and warm water. Avoid exposing the maine tourmaline ring to harsh chemicals or abrasive materials that may scratch or damage the gemstone. Be careful to not expose it to gold as well. Store your gold tourmaline ring separately from other jewelry pieces in Maine to prevent any potential scratching.
Can I wear a tourmaline ring every day?
Tourmalines, including gold and Maine tourmalines, are relatively durable gemstones that can withstand everyday wear. However, it's always a good idea to remove your gold ring when engaging in activities that may expose it to excessive force or impact, especially if the ring is adorned with Maine tourmaline. Regular maintenance and occasional professional cleaning will help keep your tourmaline ring in excellent condition for years to come.