Sale!
Travel Backpack: Carry Your Essentials with Travel-Ready Sophistication
$66.00 – $68.00 & Free Shipping
Satisfaction Guaranteed
No Hassle Refunds
Secure Payments
Frequently Bought Together
Description
Travel Backpack: Carry Your Essentials with Travel-Ready Sophistication
Are you tired of lugging around a cumbersome suitcase on your global travel adventures? It's time to upgrade to a sleek and efficient travel backpack! Selecting the right travel backpacks or laptop backpacks is crucial for hassle-free journeys. Our travel backpack is perfect for all your needs, whether you're going on a casual day trip or backpacking adventure. It's great for both business trips and exciting escapades. No matter what you're looking for, we've got you covered.
Multiples Options: We have two awesome backpacks that are made with Oxford cloth and have a lining texture made of polyester.They are perfect for people who enjoy backpacking. Our travel backpack is suitable for both men and women. Not only do these backpacks provide ample storage space for all your essentials, but they also ensure durability and comfort throughout your journey. No more backaches or struggling with bulky luggage!
Amazing Features: One of them have two handles and a front zip pocket that can hold your iPad. There are also two large compartments inside for all your travel necessities. The bag's interior is well-organized with various pockets, including a zipper pocket, a mobile phone pocket, an ID pocket, a sandwich zipper pocket, a computer pocket, and a camera pocket. The second backpack has back support and a pocket with a zipper on the back. Both bags are breathable, waterproof, resistant to wear and theft, and are also lightweight and reduce vibrations.
Best Offer & Size: Our unisex travel backpack has a capacity of 20-35L and measures 46 cm x 32 cm x 22 cm in size. It is the ideal choice for your electronic devices as it comes with a charging port for your iPhone or other gadgets. You can save 50% off when you buy our travel backpack right now! This special offer is a great opportunity to take advantage of.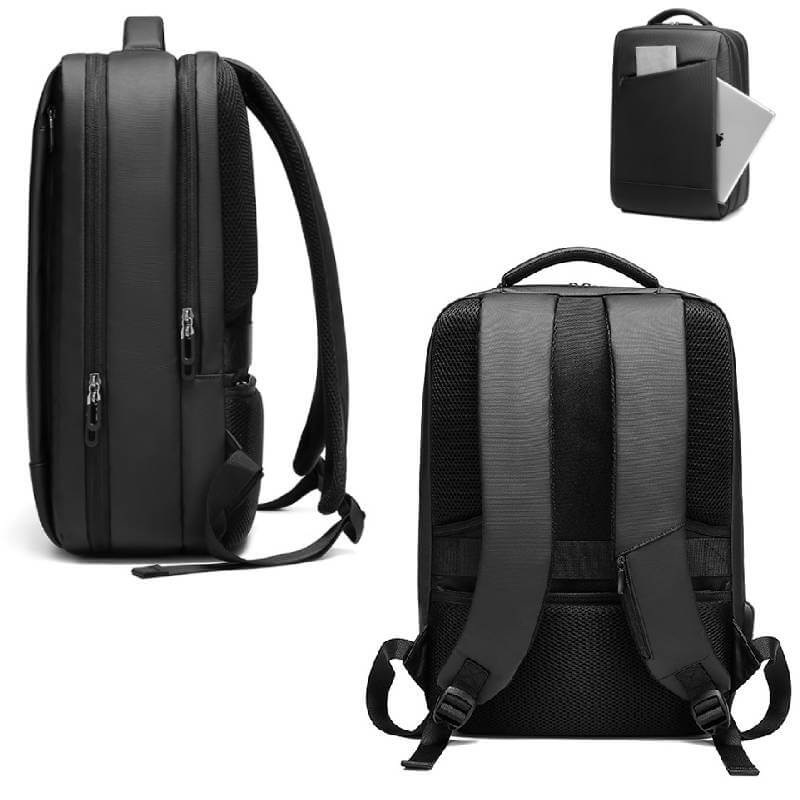 Additional information
| | |
| --- | --- |
| Weight | 0.80 kg |
| Dimensions | 340 × 220 × 160 cm |
| Color | 1style, 2style |
| Color | Black |
| Gender | Unisex |
| Age group | Adult |
Tips
Tips for Selecting the Perfect Travel Backpack in 2023
Determining the Ideal Size and Capacity
Consider how much luggage you need to carry on your backpacking travels. Whether it's a hiking backpack or a backpack flight, make sure you choose the right size and weight for your journey.

Assess the duration and type of traveling trips you usually take, and consider the appropriate travel packs and travel bags for travelers.

Look for backpacks with adjustable sizes or expandable compartments.
Features to Look for in a Durable and Weather-Resistant Backpack
Prioritize durable backpacks made from nylon or polyester for backpacking and travel bags.

Ensure the backpack has water-resistant or waterproof properties.

Look for reinforced stitching and strong zippers in zippered backpacks, such as hiking backpacks or laptop backpacks, to withstand wear and tear.
Importance of Ergonomic Design and Comfortable Straps
Opt for backpacks with padded shoulder straps for daypacks and backpacking bags, distributing weight evenly.

Look for a laptop backpack back panel that offers breathability and lumbar support.

Consider adjustable sternum straps and hip belts for added stability when choosing bags, backpacks, or daypacks for your backpack flight.
Assessing Storage Compartments and Organization Options
Look for multiple compartments to keep items organized.

Consider specialized pockets for laptops, tablets, or water bottles.

Check if there are compression straps or external attachment points on the hip belt or main compartment. Also, make sure to inspect the zippers to see if they are zippered.
Remember, selecting the perfect travel backpack involves considering size, durability, comfort, and organization options. By keeping these tips in mind, you can find backpacks that suit your needs while adding style to your adventures. Happy travels!
Guide
In conclusion, finding your ideal travel backpack is essential for a smooth and enjoyable journey. By following these tips for selecting the perfect travel backpack in 2023, you can ensure that you have the right companion to carry all your essentials while on the go. Whether it's backpacks or bags, make sure to choose one with a laptop compartment and a spacious main compartment.
Firstly, consider the size and capacity of the backpacks. Make sure the travel bag is spacious enough to accommodate your belongings without being too bulky or heavy. Look for compartments and pockets that will help you stay organized throughout your trip with travel packs.
Secondly, prioritize comfort and durability when choosing backpacks or bags. Look for adjustable straps, padded back panels, and breathable materials to ensure maximum comfort during long hours of wear. A durable backpack with a laptop compartment and a spacious main compartment, made from high-quality materials, will withstand the rigors of travel and last for years to come.
Next, consider security features such as lockable zippers or hidden compartments in laptop backpacks and bags. These additional measures can provide peace of mind when traveling in crowded places or staying in shared accommodations, as they offer added security for your belongings.
Furthermore, pay attention to the weight distribution of backpacks and travel bags. Opt for a design that evenly distributes weight across your back to prevent strain or discomfort on specific areas.
Lastly, don't forget about style when choosing travel backpacks and bags. Choose a backpack that reflects your personal taste and suits your travel aesthetic, while also providing a convenient laptop compartment for easy carrying.
Now that you know what to look for in travel backpacks and bags, it's time to start browsing! Check out reputable brands and read customer reviews before making your decision. Remember, investing in a quality travel backpack with a spacious main compartment is an investment in hassle-free travels.
FAQs
Can I bring my travel backpack as carry-on luggage on flights?
Most airlines allow travel backpacks with laptop pockets as carry-on bags as long as they meet their size restrictions. However, it's always best to check with the specific airline beforehand. For a full review, continue reading.
Are waterproof backpacks necessary for traveling?
While not necessary for everyone, waterproof backpacks can be beneficial if you anticipate encountering wet conditions during your travels or if you plan on participating in water-based activities. These backpacks have special pockets and straps that help keep your belongings dry.
How do I clean my travel backpack?
Cleaning methods for backpacks and travel bags can vary depending on the material used. It's generally recommended to spot clean with mild soap and water, but always refer to the manufacturer's instructions for specific cleaning guidelines for travel packs.
Can I use a travel backpack for hiking or camping trips?
Yes, many travel bags and backpacks are versatile enough to carry gear for hiking or camping trips as well. Look for features such as external attachment points for straps and a sturdy build that can withstand outdoor conditions. This overall review will help you choose the right bag for your needs.
Are there any warranty options available for travel backpacks?
Some brands offer warranties on their travel bags, providing added peace of mind in case of any manufacturing defects or issues with straps. Check with the manufacturer or retailer for warranty details when making your laptop purchase.