Travel Bracelet: Explore the World with Style and Elegance
$34.00 & Free Shipping
Satisfaction Guaranteed
No Hassle Refunds
Secure Payments
Frequently Bought Together
Description
Travel Bracelet: Carry Wanderlust on Your Wrist
Are you a traveler with a serious case of wanderlust? Do you love exploring new places and discovering unique treasures? If so, you'll be thrilled to know that Beauty Deals Shop has a wide selection of charms jewelry that is perfect for your next adventure. Whether you're searching for a beautiful silver charm bracelet or a stunning rose gold bracelet, you can find the perfect piece to commemorate your travels.
So why wait? Start browsing our collection of simil Pandora charm bracelet today and add a touch of wanderlust to your style. Well, looky here! We've got just the thing for travelers to tickle their wanderlust: the oh-so-popular travel bracelet, available on our shop. This handcrafted accessory is perfect for adorning your wrist as you explore the world. This little charm bracelet, worn on your wrist, has become more than just a fashion statement – it's practically a symbol of your insatiable desire for exploration and adventure, as it adorns your hand with a beautiful hot air balloon pendant .
Material: Our travel bracelet is crafted with a combination of silver and alloy, along with a special treatment process involving oil painting and electroplating. This unique process ensures that the bracelet remains durable and long-lasting.
Charms: The travel bracelet has a nice design with different charms in various shapes. There is a green hot air balloon charm, a heart charm in white and black, a pendant in the shape of a globe, a fingers up charm, and a security chain. There is also a multicolor heart charm and charms with a blue lunar night design.
Size: Our charm bracelet is designed to fit a variety of wrist sizes, with options available in 16 cm, 17 cm, 18 cm, 19 cm, 20 cm, and 21 cm.To make sure the travel bracelet fits you perfectly, you can use a tape measure to measure your wrist. Consult the size chart to choose the right size for you. Our beautiful travel bracelet is designed to suit any traveler's style. It is a lovely accessory to wear on your wrist.
Gift & Free Shipping: But hold on, there's an extra bonus! These cool bracelets for your wrist come with a fantastic present – free delivery!
So why not jazz up your wrist game with a travel bracelet? It's time to let the world know that you're ready to explore new horizons and make memories that will last a lifetime on your wrist!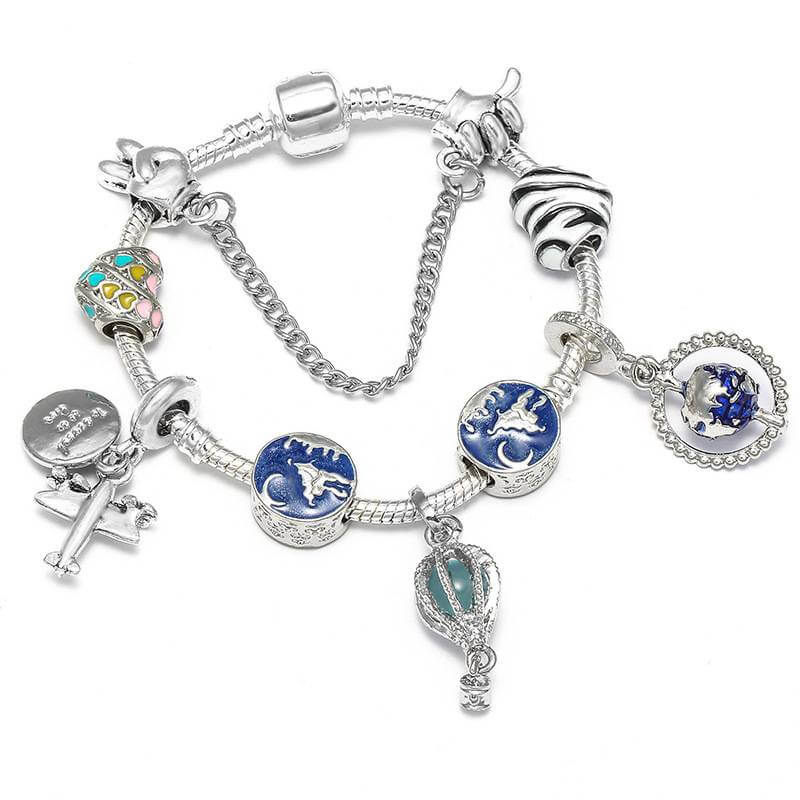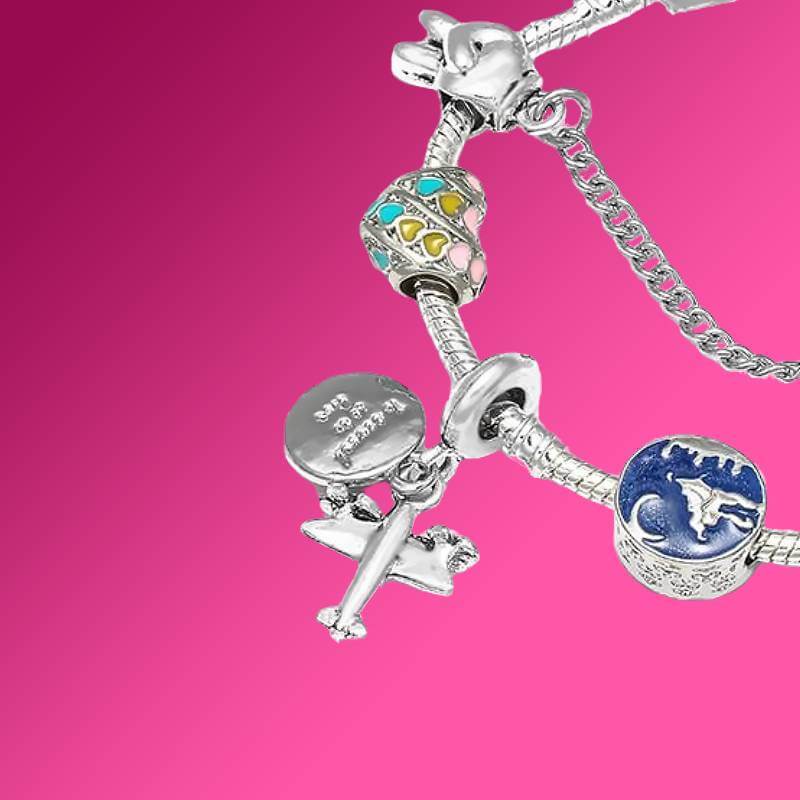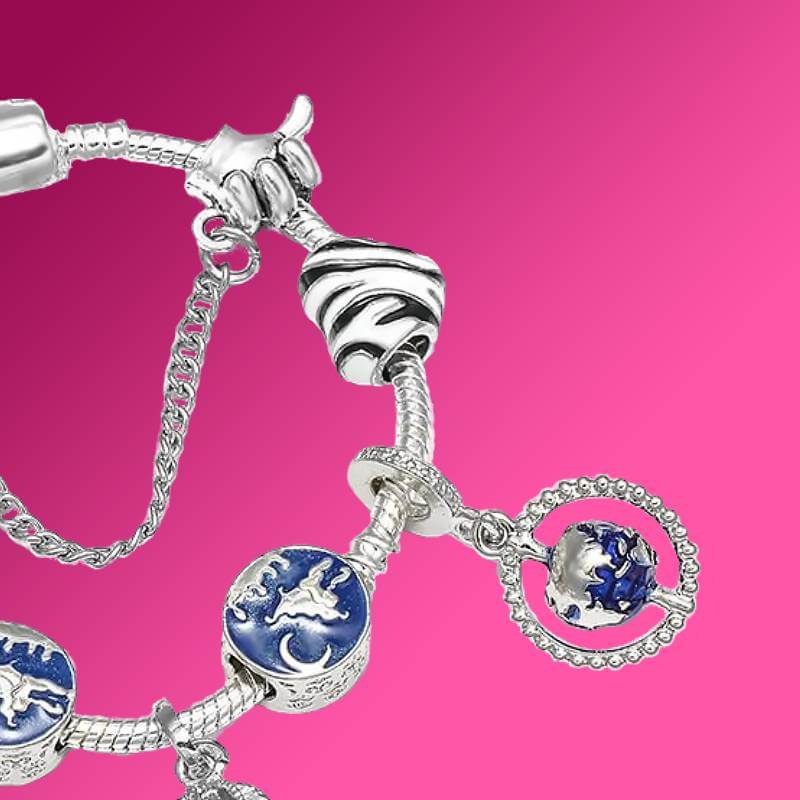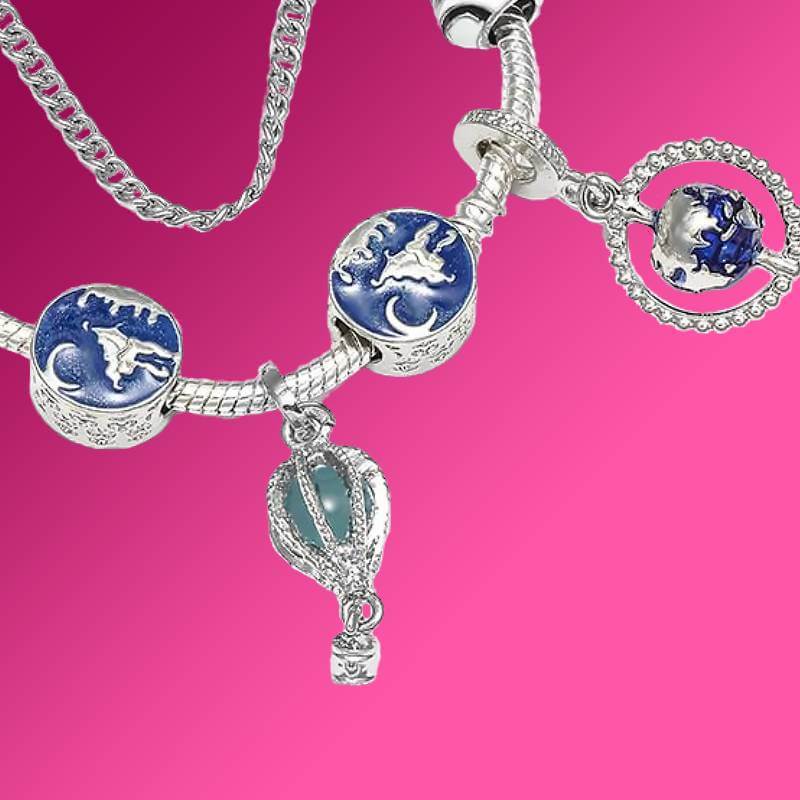 Additional information
| | |
| --- | --- |
| Weight | 0.04 kg |
| Dimensions | 70 × 70 × 60 cm |
| Size | 16cm, 17cm, 18cm, 19cm, 20cm, 21cm |
| Gender | Female |
| Age group | Adult |
| Color | Blue |
Journey
Embrace the Journey with Your Travel Bracelet
Reminds You of Past Adventures
Every time you glance at your wrist, your travel bracelet will transport you back to the incredible adventures and unforgettable experiences you've had. It's like a mini scrapbook that tells the story of your wrist travels. From that charming little town in Italy to the breathtaking hike in New Zealand, each charm or bead on your wrist bracelet represents a cherished memory.
Sparks Conversation About Your Travels
Wearing a travel bracelet is like wearing a conversation starter on your wrist. People are naturally curious about the symbols and charms adorning it, and it gives you an opportunity to share stories about your journeys with others. Whether you're sitting at a café or waiting in line at the grocery store, this little accessory can spark connections and open doors to new friendships.
Adds a Personal Touch to Your Style
Your travel bracelet is more than just an accessory; it's an extension of who you are as a traveler. It adds a personal touch to your style, showcasing your love for exploration and adventure. Whether you prefer delicate silver charms or vibrant beaded bracelets, there's a travel bracelet out there that perfectly complements your unique personality and fashion sense.
Encourages Exploration and New Experiences
Wearing a travel bracelet serves as a constant reminder to embrace new experiences and seek out exciting destinations. It fuels your wanderlust and motivates you to plan future trips. Each time you look down at your wrist, it's like receiving a gentle nudge reminding you that there's still so much of the world left to explore.
So why wait? Get yourself that travel bracelet today and let it become not only a stylish addition to your wardrobe but also a symbol of all the amazing adventures that lie ahead!
Tell a Story
Telling Your Travel Story Through Charm Bracelets
Embrace the journey and cherish the memories with your travel bracelet. This unique accessory allows you to tell your travel story in a personal and meaningful way. Each charm represents a special place, an unforgettable experience, or a cherished moment from your adventures around the world. As you wear your travel bracelet, it becomes more than just a piece of jewelry; it becomes a tangible reminder of the incredible places you've been and the incredible person you've become.
So why wait? Start creating your own travel bracelet today and let it be a conversation starter that sparks curiosity and wanderlust in others. Share your stories, inspire others to explore, and keep those precious memories close at hand. With every charm added, you'll feel a surge of excitement as you relive those unforgettable moments.
FAQs
Can I customize my travel bracelet?
Absolutely! The beauty of travel bracelets is that they can be customized to reflect your unique adventures. Choose charms that represent the destinations you've visited or experiences that hold special meaning for you. Personalize it with initials or symbols that speak to your individuality.
Are these bracelets suitable for both men and women?
Yes! Travel bracelets are designed for everyone who loves to explore and create lasting memories. They come in various styles, materials, and sizes to suit different preferences. Whether you're male or female, young or old, there's a travel bracelet out there waiting to accompany you on your next adventure.
How do I care for my travel bracelet?
Caring for your travel bracelet is simple. Keep it away from harsh chemicals or abrasive surfaces that could damage its appearance. When not wearing it, store it in a safe place where it won't get tangled or scratched. If needed, gently clean it with mild soap and water to maintain its shine.
Can I add more charms later on?
Absolutely! One of the great things about travel bracelets is that they can evolve with your journey. As you continue to explore new places, you can add more charms to your bracelet, creating a visual timeline of your adventures. It's a wonderful way to keep expanding your travel story.
Can I wear my travel bracelet every day?
Yes! Travel bracelets are designed to be worn daily as a symbol of your wanderlust and love for travel. They are made with durable materials that can withstand everyday wear and tear. However, if you're engaging in activities that could potentially damage the bracelet, it's best to remove it temporarily to keep it safe.