Watches for Men: Timeless Accessories for Sophisticated Style
$104.00 & Free Shipping
Quantity
Discount
Discounted price
2
5%

$

98.80
3
10%

$

93.60
5
15%

$

88.40
10
20%

$

83.20
Satisfaction Guaranteed
No Hassle Refunds
Secure Payments
Frequently Bought Together
Description
Watches for Men: Timeless Accessories for Sophisticated Style
Hey there, fellas! Ready to dive into the fascinating realm of watches for men? Timepieces have come a long way, evolving from simple wrist companions to stylish statements that define who we are. Our watches for men with a stainless steel strap will perfectly suits your wrist and personality for any date.
High Quality & Multiple Colors: But what makes our watches for men truly special in the world of fashion? It's not just about telling time; it's about making a statement. Our watches for men that are built to last, with a strong buckle and strap made of stainless steel. With its sleek design and a range of colors to choose from – black, green, blue, and gold – each watch fulfills its purpose as the perfect companion for your daily routines and a stylish accessory for any event.
Perfect Gift: Gentlemen, if you're in need of a fantastic present or wanting to enhance your own style, make sure to purchase our collection of watches for men now! Get ready to discover the styles, and components that make these timekeeping marvels an essential part of every man's fashion ensemble. Let's get this show on the road and shop for our perfect mens fashion watch with a stylish metal strap!
Features:
Waterproof performance: 30M

Movement type: Quartz

Display type: Pointer

Thickness: 12mm

Dial diameter: 43.5mm

Dial shape: Round

Table bottom type: Normal

Mirror material: Mineral strengthened glass mirror

Clasp style: Butterfly double snap buckle

Luminous and calendar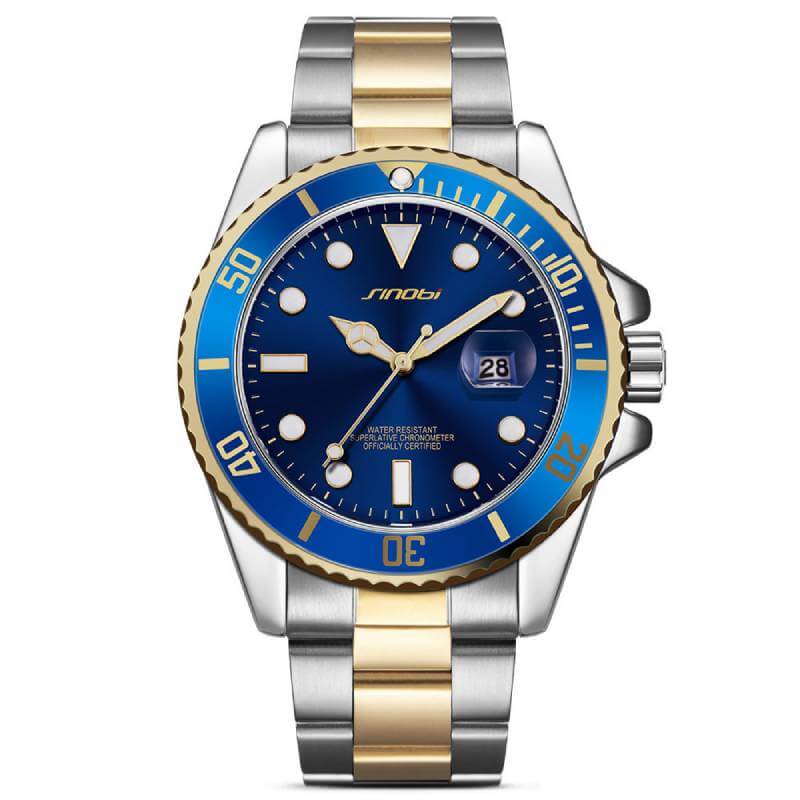 Additional information
| | |
| --- | --- |
| Weight | 0.14 kg |
| Dimensions | 150 × 150 × 100 cm |
| Color | Black, Blue, Gold, Green |
| Gender | Male |
| Age group | Adult |
| Color | Black, Blue, Gold, Green |
Shopping Tips
Unveiling Advanced Features: Powered by Light Technology
Shop for easy-to-use wrist watches powered by light, eliminating the need for battery changes. Experience the convenience of this innovative product.

Discover how solar-powered watches harness natural or artificial light to generate energy. Whether you're shopping for a new watch or looking for a unique gift, solar-powered watches are a great option. These innovative timepieces use the power of the sun or other light sources to keep them running. With a solar-powered watch on your wrist, you can enjoy reliable and eco-friendly timekeeping while also reducing your carbon footprint. So why not shop for a solar-powered watch and shine like the stars?

Discover the latest innovations in men's wrist watches at our shop. Learn about Eco-Drive and Solar Atomic Timekeeping technologies for an up-to-date and eco-friendly timepiece.

Explore the benefits of never having to worry about running out of power with light-powered mens watches for your wrist. Find the perfect gift at our shop.
Men's watches have taken a leap forward with advanced features powered by light technology. Gone are the days of constantly changing batteries or worrying about your wrist gift dying at an inconvenient time. With these new offerings, you can experience the convenience and reliability that comes with watches powered by light. So, why wait? Get your hands on one of these star-studded timepieces today!
Solar-powered watches, available in our online shop, are at the forefront of this technological revolution. By harnessing natural or artificial light, these wristwatches generate energy that keeps them ticking without any intervention from you. Whether it's sunlight streaming through your window or the glow of a lamp at night, these watches absorb and convert light into power. Check out our collection today and find the perfect solar-powered watch at an affordable price.
Two notable technologies in the realm of wrist watches are Eco-Drive and Solar Atomic Timekeeping. Eco-Drive utilizes a special solar panel under the dial of analog watches to capture both natural and artificial light, ensuring continuous operation without ever needing a battery change. On the other hand, Solar Atomic Timekeeping combines solar power with atomic time synchronization for unparalleled accuracy and precision in mens watches.
The benefits of owning mens watches powered by light go beyond just convenience. You'll never have to worry about running out of power again when wearing one of these wrist timepieces. No more scrambling for replacement batteries or finding yourself stranded without a functioning watch during important moments. Shop now for affordable prices.
Must-Have Features
Enhancing Your Style: Must-Have Features in Men's Watches
Men's watches are essential accessories that not only tell the time but also add sophistication to your overall look. Whether you prefer a classic leather strap or a sleek stainless steel design, there are certain features to consider when shopping for the perfect wristwatch. Let's explore some must-have features that can elevate your watch game and make a lasting impression, all at an affordable price.
Water Resistance: Everyday Wear and Outdoor Activities
Water resistance is an essential feature to look for in men's stainless steel watches, especially if you lead an active lifestyle or enjoy outdoor activities. With water-resistant watches, you don't have to worry about accidental splashes or getting caught in the rain. It adds durability and peace of mind, allowing you to wear your wristwatch confidently wherever you go. Plus, it comes at an affordable price.
Chronograph Functions: Functionality and Sophistication
Chronograph functions are not just about keeping track of time; they also add functionality and sophistication to men's watches. These additional dials allow you to measure elapsed time, making them ideal for sports activities or timing events. A chronograph watch adds an extra layer of versatility and style to your wrist. Whether you're looking for a mens watch with chronograph functions at an affordable price or want to shop from a list of high-end options, the market offers a wide range of choices to suit your preferences.
Complications: Elevating Your Watch Game
If you want to take your mens watch game to the next level, consider complications such as moon phase displays, perpetual calendars, and dual time zones. These intricate features showcase craftsmanship while offering practical benefits. Moon phase displays add a touch of elegance to mens watches, perpetual calendars ensure accurate date tracking without manual adjustments, and dual time zones allow easy tracking when traveling across different regions. Shop now for mens watches at the best price and find the ones with the most stars.
Materials: Durability and Style Combined
The choice of materials can significantly impact both the durability and style of mens watches. Stainless steel watches, available in our shop, offer a timeless appeal with their sleek appearance and robust build quality at an affordable price. Titanium is another popular option known for its lightweight yet durable properties. For a more contemporary look, ceramic watches are gaining popularity for their scratch-resistant and hypoallergenic nature. Check out our shop for new offers and consider your personal style and preferences when choosing the material that best suits you.
Elevating Look
Elevating Your Look: How Men's Watches Complete Your Outfit
Shop for mens watches at a great price and find the perfect one to elevate your look. A well-chosen watch can make a statement about your personal style and complete your outfit with style.
Dress Watches: Elegance and Sophistication
Dress watches are essential for any stylish individual. These elegant timepieces are available to shop at various prices and come in a range of designs. With their refined details and sleek appearance, they effortlessly enhance your overall look. Add a touch of class to any suit or tuxedo with these sophisticated watches. Check out the stars ratings and reviews to find the perfect one for you. Don't miss out on the latest styles this Aug!
Sports Watches: Durability and Functionality
For more casual outfits or athletic pursuits, shop for sports watches. Designed with durability in mind, these timepieces can withstand the rigors of an active lifestyle while still offering functionality. From tracking your workouts to providing water resistance, sports watches are both practical and stylish. Check out our aug list for the best price.
Consider these options:
Chronograph watches with stopwatch features

Dive watches with high water resistance

GPS-enabled smartwatches for outdoor activities
Versatile Options: Minimalist Designs and Interchangeable Straps
If you prefer a versatile watch that can adapt to any occasion, exploring minimalist designs and interchangeable straps at our shop is worth it. Minimalist watches boast clean lines and simple dials, making them suitable for both formal and casual settings. On the other hand, with our new offers, you can switch between leather, metal, or fabric bands depending on your outfit or mood. Check out our shop for the best prices and find the perfect watch that will earn you five stars.
To summarize:
Dress watches add elegance and sophistication.

Sports watches offer durability, functionality, and a sporty aesthetic.

Versatile options include minimalist designs and interchangeable straps.
By carefully selecting a watch from a shop that aligns with your style preferences and outfit choices, you'll effortlessly elevate your look while making a lasting impression. So next time you're putting together an ensemble, don't forget the impact that a well-chosen watch from a price list can have on completing your outfit.
The Perfect Watch for You
Finding the Perfect Men's Watch for You
In conclusion, when shopping for watches, price is an important factor to consider. You want to look for watches that offer advanced features such as powered by light technology. These watches not only eliminate the need for battery replacements but also ensure that your timepiece is always ready to go. Additionally, it is helpful to check the star ratings and read reviews to make an informed decision. Making a list of your desired features can also help narrow down your options.
When choosing a men's watch, it's important to shop for must-have features that elevate your style and overall look. Look for watches with a variety of price points and customer reviews, as indicated by the number of stars. Whether you prefer a sleek and minimalist design or a bold and statement-making timepiece, finding the right watch can truly enhance your fashion game. Start your search in August for the best deals.
Moreover, men's watches are essential for completing your outfit. They add sophistication and class while showcasing your attention to detail. With the right watch on your wrist, you can effortlessly elevate any ensemble and make a lasting impression. Don't forget to check out our shop for the best prices on men's watches.
When shopping for a men's watch, it's important to consider factors such as durability, functionality, brand reputation, and price. By prioritizing these aspects along with your personal preferences, you can find the perfect timepiece that suits both your style and lifestyle. Make sure to check out our list of watches in August for the best options available.
So why wait? Start exploring the wide range of men's watches available at our shop today and find the one with the perfect price that speaks to you. Elevate your fashion game while staying punctual with a stylish and functional timepiece on your wrist. Don't miss out on our new offers for the month of Aug.