Black Rings for Women: Sleek and Stylish Accessories For Edgy Look
$21.00 & Free Shipping
Satisfaction Guaranteed
No Hassle Refunds
Secure Payments
Frequently Bought Together
Description
Black Rings for Women: Contemporary Chic in Dark Hues
Looking to make a bold statement with your jewelry? Look no further than our black rings for women. These sleek and modern accessories have taken the fashion world by storm in recent years, offering a unique alternative to traditional metal bands. With their dark and mysterious allure, our black rings set have become a favorite choice among women who want to stand out from the crowd. From celebrities gracing red carpets to influencers rocking them on social media, these stylish pieces are gaining popularity everywhere.
Materials & Size: Our ring set is made of alloy and includes 10 pieces, giving you plenty of options to customize your everyday or night-out look. With a range of ring sizes from 1.4 cm to 1.9 cm, it can fit any finger perfectly.
Bonus: When you buy this set of rings, you will receive a lovely present that comes with no additional cost for shipping. Make sure you don't pass up on this amazing deal that will give your outfit an edgy look and attitude. Shop now!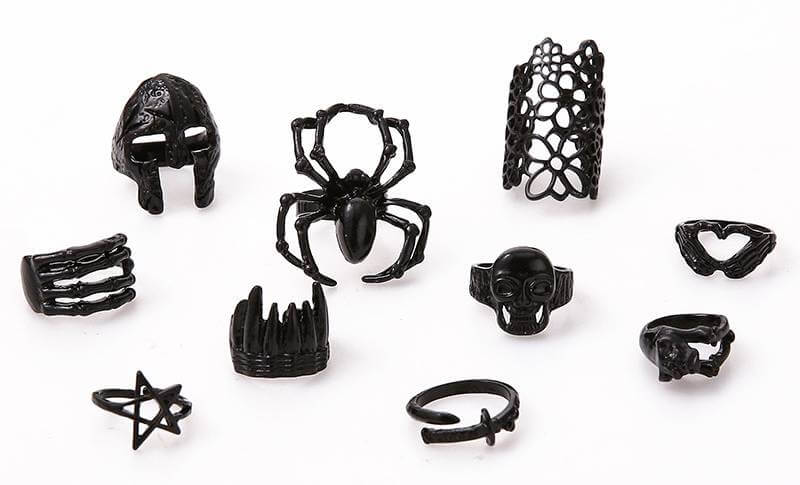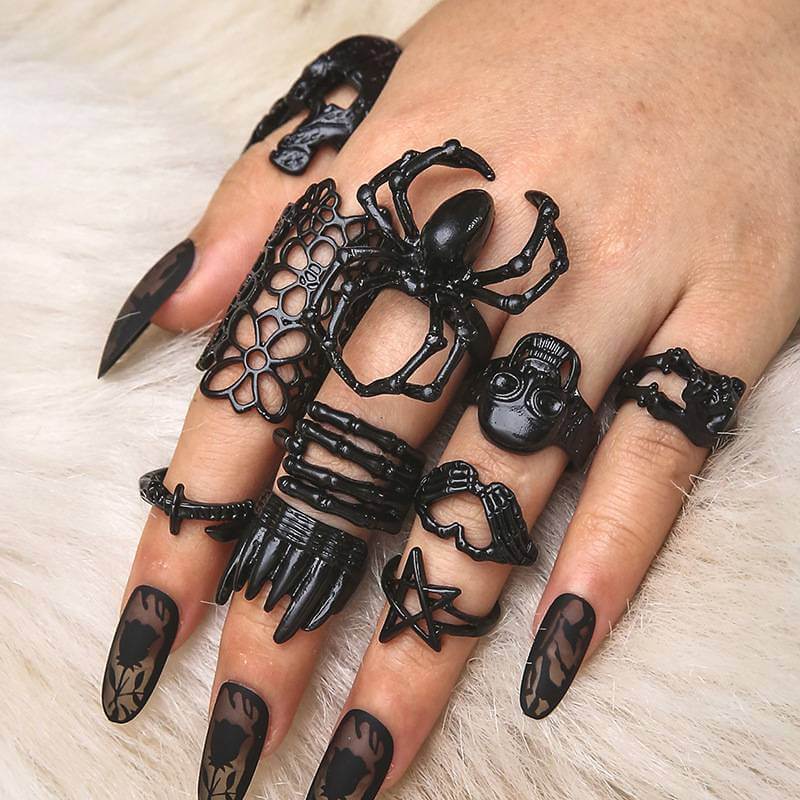 Additional information
| | |
| --- | --- |
| Weight | 0.07 kg |
| Dimensions | 100 × 100 × 30 cm |
| Color | Black |
| Color | Black |
| Gender | Female |
| Age group | Adult |
Trending
Trending Styles and Designs of Black Rings for Women
Minimalist black ring designs are all the rage among women right now. These sleek and understated rings exude a sense of elegance and sophistication that can effortlessly elevate any outfit. With their simple yet striking appearance, minimalist black rings have become a staple in many women's jewelry collections.
Adding gemstone accents to black rings is another popular trend that has gained significant traction. The combination of the dark, mysterious black metal with the vibrant sparkle of gemstones creates a captivating contrast that draws attention. Whether it's a single gemstone or a cluster of stones, these accents add an extra touch of glamour to black rings.
Stackable black rings have also captured the hearts of fashion-forward women everywhere. These versatile pieces allow for endless customization options, as they can be mixed and matched to create unique combinations on different fingers. By stacking multiple black rings together, you can express your individual style and create a personalized look that is truly yours.
In addition to minimalist and stackable designs, unique shapes are making waves in the world of black rings. Geometric designs, such as hexagons or triangles, offer a modern and edgy aesthetic. Nature-inspired motifs like leaves or flowers bring a touch of organic beauty to these dark accessories. These unconventional shapes provide an opportunity for self-expression and stand out from traditional ring designs.
With so many exciting styles and designs available, it's no wonder that black rings have become increasingly popular among women seeking something different from the classic silver or gold options. Whether you prefer minimalism, gemstone accents, stackable options, or unique shapes, there is undoubtedly a perfect black ring out there waiting for you to make it your own.
Meaning of Black Rings for Women
Symbolism and Significance of Black Rings for Women
Black rings have become increasingly popular among women, not only for their stylish appearance but also for the symbolism and significance they hold. Let's explore why black rings are more than just a fashion statement.
Strength, Power, and Independence
Wearing a black ring is often seen as a symbol of strength, power, and independence for women. The color black exudes confidence and resilience, making it an empowering choice for those who want to showcase their inner strength.
Breaking Societal Norms
Black rings can also be seen as a statement against societal norms and expectations. By choosing to wear a black ring, women are challenging traditional ideas about femininity and asserting their right to define themselves on their own terms.
Mourning or Remembrance
In some cases, women choose black rings as a symbol of mourning or remembrance. The color black has long been associated with grief and loss, making it a poignant choice for those who want to honor loved ones or commemorate significant life events.
Intriguing Mystery
The allure of the color black lies in its association with mystery. Black rings have an air of intrigue that captivates attention and adds an element of mystique to any outfit. Women who wear black rings embrace this sense of enigma, adding depth to their personal style.
Explore
Explore More Women's Black Ring Collections
If you're looking for the perfect black ring to add a touch of elegance and style to your outfit, you've come to the right place. Our collection of women's black rings offers a wide range of trending styles and designs that are sure to impress. From sleek and minimalist bands to intricate and ornate designs, we have something for every taste and occasion. Whether you're dressing up for a special event or simply want to elevate your everyday look, our black rings will make a bold statement.
Investing in a black ring not only adds an edgy touch to your jewelry collection but also carries deep symbolism and significance. Black rings are often associated with strength, mystery, and individuality. They can be worn as a symbol of empowerment or as a reminder of personal milestones and achievements. By choosing a black ring, you're embracing your unique style and expressing yourself with confidence.
Ready to find the perfect black ring? Browse through our collection now and discover the one that speaks to you. Whether it's for yourself or as a gift for someone special, our women's black rings are guaranteed to leave a lasting impression.
FAQs
Can I wear a black ring every day?
Absolutely! Our women's black rings are designed for everyday wear. They are made with high-quality materials that ensure durability without compromising style. Whether you're going about your daily routine or attending special occasions, our black rings will withstand the test of time.
Are these rings adjustable?
Some of our women's black rings come in adjustable sizes, allowing you to easily customize the fit according to your preference. However, please check the product description for each specific ring as not all designs may offer adjustability.
Can I stack multiple black rings together?
Definitely! Stacking multiple black rings is a trendy way to create a unique look that reflects your personal style. Experiment with different shapes, textures, and sizes to create a stunning stack that will turn heads wherever you go.
How do I care for my black ring?
To keep your black ring looking its best, we recommend avoiding exposure to harsh chemicals, such as perfumes or cleaning agents. Remove your ring before engaging in activities that may cause it to come into contact with excessive moisture or impact.
Do you offer international shipping?
Yes, we offer international shipping on our women's black rings. Simply select your desired destination at checkout, and we'll ensure your order reaches you no matter where you are in the world. Please note that additional customs fees or taxes may apply depending on your country's regulations.